They had me at the Red Ferrari Cake: Top Spa Visit, Montage Laguna Beach
---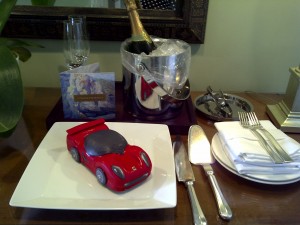 They had me at the Red Ferrari Cake
Peter and I finally had a chance to experience the famous Montage in Laguna Beach California.  We had driven by it many times, heard people rave about it, and watched it win numerous awards – including top honors for their spa.  The fact that it was the first – and only – spa in the country to win the Mobil Five Star for their spa when Mobil began rating spas, was particularly impressive.  I also knew that Anne Bramham – probably the best spa therapist trainer in the country – had trained their staff for months before their opening 7 years ago.  And most impressive of all, she continues to train them which is quite an investment.
Well, what can I say – they exceeded our very high expectations!  Not so easy to do as we have had the chance to stay at some very fantastic properties all over the world and experience many extraordinary spas.
It would be difficult to explain all the many things that added up to making it such a perfect experience, however I will mention three things that stood out and then tell you about the red Ferrari cake – which definitely put our stay over-the-top.
Location

– drop dead gorgeous…on a cliff overlooking the Pacific with 280 degree views..accessible beach, blue water, white waves, fantastic weather.  Romantic.

Food

– amazing. Never have I experienced a place where every single thing we ate was "the best ever."  We had the best ever fruit plate, Peter had the best ever hamburger, I had the best ever chili and we agreed that even the crudités plate was the best ever! I didn't really think there could possibly be much of a difference between an assortment of vegetables however every single tomato, red pepper, and carrot was plump, juicy and sweet – like it just came from the farm.  And this all was just from room service!  Even the latte we ordered in the morning was amazing – it came with sides including chocolate shavings and a bowl of "foam" so that you could add as much as you want!
Service – over the top.  All the staff were experts at their respective craft – the chef, the wait staff, the spa therapists and even the parking attendants, etc.  The executive team we had breakfast with was equally impressive.  And the part that they really get right is that they are genuinely friendly and work together as a team to make sure your stay is memorable and exceeds your expectations.  There is no "attitude."

Surprise

– this element took the Montage to another level entirely.  For us it came in the form of a red Ferrari cake.
That had special significance to us.
One of the reasons we were in the area was to pick up a car that Peter had ordered.  It was to be a replacement for a hobby he loved so much for 50 years and had to give up.  He sold his collection of award winning motorcycles after his motorcycle accident this spring that put him in the hospital for 2 weeks and still causes him some physical limitations.  I encouraged him to have something new and exciting to focus on.  (I was definitely not thinking in terms of something fast and racy.)  But he quickly did the math, realized he could make an even exchange and so I thought – why not, go for it!  (better than having him tempted to get back on a bike someday)
I didn't remember having mentioned anything about picking up a Ferrari when I spoke to Julie the spa director about our visit – in fact, I am still not sure if I did.  Perhaps it was Peter who spoke with reservations.  All I know is that upon arrival at the Montage when we were taken to our room and the door opened, the first thing we saw on a credenza in the foyer was a red Ferrari next to a bucket of Champagne and flowers.  At first it didn't register that this was actually a cake – I thought maybe it was a plastic toy.  But then it dawned on me that they had actually gone to the trouble of making a cake that looked exactly like a red Ferrari – including the red/yellow emblem on the hood! How extraordinary!
It was only later that I found out (and was thrilled to learn) that they do this sort of thing for many of their guests.  They listen very carefully to guest's needs and desires (even the spa has a lengthy questionnaire so they can customize the spa experience) – they try to get to know you.  They have done many unique cakes (although I believe this was their first Ferrari) but they also might have a giant Mickey Mouse sitting on a chair in the room if they know that Disneyland is on the agenda for the kids, or a sign noting a celebration or even something special for the dog that may be coming along who is enthusiastically welcomed at the Montage.
Alas, I may have a new answer to the question I am asked more than any other question.  What is your favorite spa in all of the world?
My twitter address: @susieellis