Transform Your Bedroom into a Sanctuary for Sensuality & Serenity!
---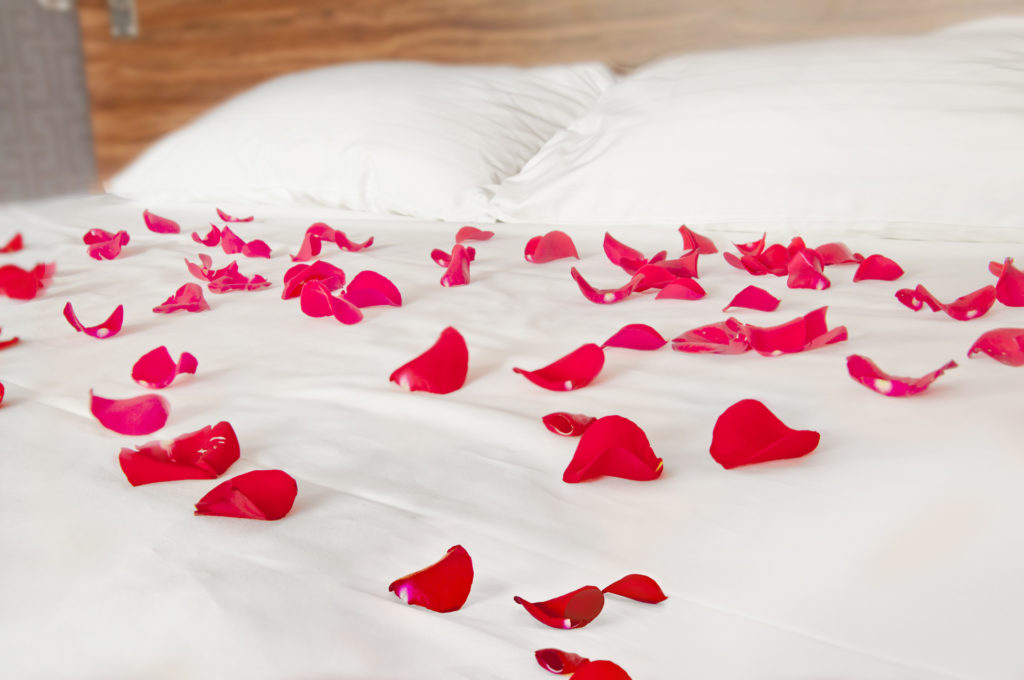 Since we spend one third of our lives in bed, it is sensible that a bedroom be a peaceful retreat and play only two roles in your life: serenity and sensuality. Anything else can prevent both a good night of sleep and a romantic encounter.
We also spend 2/3 of our life interfaced with an electronic virtual world. We've lost touch with touch. Forty percent of Americans have trouble sleeping. It's time get back into our bodies and return to a deeper experience. A bedroom can be the first place to go to bring you into a more meaningful relationship with your body and soul.
Sleep Center studies show that a room that's too bright, too warm, too messy or too stimulating can hinder a healthy night rest. Employ all five senses when turning your bedroom into a sanctuary for serenity and sensuality. You deserve a room that nourishes your soul and provides a respite from the world.
Here are some tips to transform your bedroom into a sanctuary for serenity and sensuality:
A messy bed is not sexy, inviting or restful. If you don't have time to make your bed you may be neglecting yourself and not spending enough time on self-care-an essential practice of living a balanced life. If that's not enough to motivate you, the National Sleep Foundation states that when we make our beds, 19% of us sleep better. Want to make the bed more inviting? Splurge on fabrics that appeal to your senses including, chenille, flannel, silk, Egyptian cotton and velvet
Smell is a major libido activator! Use scented candles, aromatherapy, a room diffuser or fragrant mists to create the desired effect. Use sensual scents of rose, vanilla, sandalwood, or jasmine to turn up the sizzle factor and soothing lavender for winding down. The National Sleep Foundation found that 71% of Americans say they sleep better in a fresh-smelling bedroom. So put a lid on the smelly laundry bin and burn a musky scented candle.
Reduce chaos. Your TV, IPAD, IPOD, phones, exercise equipment do not belong in the bedroom! Electronics send your brain into overdrive and compete serenity and sensuality. Also, when you surf the net, check Facebook or watch television in the bedroom or right before we retire, we program our brains to wake up and work.
Release Clutter. Clutter stagnates your energy, sex life, sends you into overwhelm, and is a major love repellent. Need I say more? You nightstands shouldn't be junked up with your to-do lists or anything work related. Too many books overstimulate! Only read books that are relaxing before going to bed. What you put in your head right before snoozing actually goes into your subconscious and you process it all night. What do you want to process in your dreams? That should give you a hint as to what is an ideal choice.
When it comes to color in the bedroom you have to love it. But from a Feng Shui perspective, any shade in the skin tones, from ivory to chocolate is a great color for walls. Too much white in your bedding created a sterile energy-not exactly conducive for passion. Also, if you have busy patterns on your duvet or anywhere else in the room, like your art work, it produces too much Yang energy, which is active and doesn't promote rest. Warm skin tones are great for sheets and pillow cases, and plums, peaches, reds, paprika, burnt orange as accent colors for pillows, a throw, a "wow" wall, all to invite warmth and passion.
Don't use old sheets from old relationships! If you're single and still sleeping on the same mattress and sheets from your last relationship, then it's time for a makeover. Feng Shui states that energy sticks to stuff. You don't want those old memories stamped on your bedroom or your mind holding you back from meeting the right "one."
No free floating beds. That means get a headboard or at least fake it by applying a decal to the wall. Headboards are really important as they represent security in life and in your relationships. You don't want to be lost in a sea of insecurity when it comes to love. .
Make the bed a drama free zone. That means no arguments in bed! If you're going to have a deep heated conversation that may produce a lot of upset, take it to another room. Arguments are inevitable, but the goal is to maintain the bed's sacred role in your life. Deep gratitude and appreciation are always welcome communication in the bedroom.
For Locations near you to explore Fengshui a little further, click here. We also invite you to leave comments below.
To make sure you don't miss out on any of our great content, please subscribe to our newsletter!