Vichy Spa: Losing Weight the French Way: Part Two
---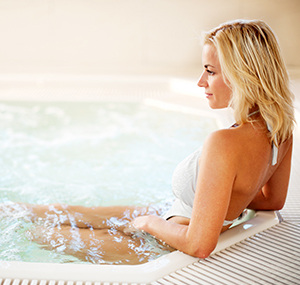 What great timing! I am in the middle of a book by Douglas Peter Mackaman called, Leisure Settings, Bourgeois Culture, Medicine, and the Spa in Modern France where I just finished reading the chapter on Vichy and Aix-les-Bains. These were two of the largest and most important spas in France during the 19th century.
The author's theory is that visiting spas during this time period yielded "social dividends" – that the French middle class went to spas to become more bourgeois. Mackaman reasons that
spa-going was a good fit with the bourgeois class (or those who wanted to be part of it) because education and the desire to be productive was satisfied.Fascinating!
And now, Jacqueline Swartz has just sent me "Part Two" – her account of a visit to Vichy where she tried their weight-loss program. Vichy Spa: Losing Weight the French Way was a blog post in December of 2007.
Now we get to hear the rest of the story – and how much weight Jacqueline lost.
Vichy Spa: Losing Weight the French Way:
Part Two by Jacqueline Swartz
I am sitting on a velvet chair in the pastel-hued gourmet restaurant in the Vichy Celestins Hotel, awaiting three courses of visual and culinary delights. First, a leek terrine scented with truffles. Then, maigret de canard, filet of duck breast accompanied by slices of baked sweet potatoes. For dessert, an omelette norvegienne, fresh fruit and light vanilla ice milk topped with meringue. It's all delicious, but what is astounding is that this satisfying three course meal adds up to a mere 409 calories. Dinner will be even less, 317 calories, to be exact. I'm here for a week of losing weight the French way, which means not sacrificing pleasure, and learning what is possible – observing portion control, avoiding extreme diets, even allowing carbs..
It's all part of an ambitious new program, Maigrir a Vichy (loss weight at Vichy) designed to make this French town of 33,000 the weight loss centre of the country.
I am advised to take a glass of thermal water before each meal. Easy – the Hall des Sources is a short walk in the park, and the sulfur-tasting water, which I get used to, seems to act like a appetite depressant. But among the shops bordering the park there seems to be an abundance of chocolatiers. Am I tempted? You bet.. But my project here is to lose weight. And how could I let down the team, that platoon of upbeat women who wrap me and hose me down (aquamassage, to be precise), and apply the cellulite machine. Then there's the upbeat personal trainer, the first to show me how to correctly use a rowing machine. Besides being super-competent, they are attentive, encouraging, and relaxed: does this come from living in a small town? I don't know. And what about the chef, innovative Pierre-Yves Largeoux, with his wondrous low-cal creations and his genius desserts. How could I betray his artistry by …cheating.
Also, I am so busy with all my treatments I have little time to snack. There is the wrap in what seems like cold ace bandages, followed by the mineral bath with cedar oil, which is supposed to have a slimming effect. There's an extensive skin consult, with computers hooked up to sensors measuring the skin's thickness and hydration. Then, the Vichy facial, with special attention to puffy eyes. The many steps include steam, mask and lymph draining massage. At the end I am rewarded by a generous goodie bag of Vichy samples, including a feather light foundation that really works for me.
And of course there's the overhead shower bar experience with a four-handed massage.. The Vichy Shower, says the Directrice of the Vichy Spa, Pascale Coquillaud, actually originated in Vichy sometime in the late l800's. It was intended to be used only with authentic Vichy thermal water, but as spa goers know, the Vichy Shower is now everywhere.
More meals, more treatments, and in a blink the week is up. I have already strolled down to the train station (which will be restored to its Belle Epoque splendor in a few months), and made my reservation, having bought my ticket before I left for France through www.raileurope.com.
I'm mostly packed. Now it's the moment of truth – the final meeting with the dietician. Lost: an inch off my waist – all those wraps did some good. Lost: three pounds. Not much, except that it adds up to a half a pound a day. Imagine what the total would be if I were there for a month I If I stayed, I'd start getting wine with meals. Also, a month would give me time to explore the area. Vichy is in the Auvergne, a region of volcano-centered national parks and Bourbon castles. That will be for next time. Now, I'm thinking about retaining what I have learned: portion control, mindfulness of what I'm eating, and ingenious recipe ideas. I'm headed for Paris, with its gastronomical challenges. Temptation? I prefer to think of it as the perfect place to start eating like a French woman.