Build Your Mental Muscle: 5 Tips for Finding Time to Meditate Within a Busy Life
Published: Friday, June 6th 2014
in Mindset
---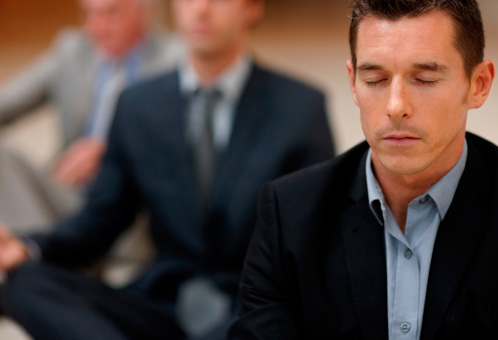 No time to meditate? That's only true if you're not breathing! And if you're reading this, you're breathing, so read (and breathe) on!
Finding time to meditate can be very simple, as long as you let it be! When I'm teaching mindfulness meditation at the Mohonk Mountain House I often hear, "But my life is busy! When can I fit it in?" The answer is, right here and right now! Learn how to use this moment, whatever it is, as an opportunity to meditate, to be mindful.
Let's be real. Love. Family. Work. Health. LIFE. Things can feel pretty complicated as we juggle relationships, carve out time for ourselves, and fill the roles we've chosen or have been assigned. We may want to meditate, we may recognize that being mindful can bring clarity and insight to relationships and decisions. But, if we believe that we have to carve out 20 minutes, twice a day to meditate in a calm and perfect setting—despite best intentions, we may never get started!
Excuses… Excuses!
"I can't find time…" "That's just not me…" Excuses, excuses! Once you let go of these Meditation Myths, you can embrace the opportunity to bring three minutes, two minutes, or even 30 seconds of meditation into your life to reduce stress and enhance wellness right now—which is exactly when you need it!
It's all about building "Mental Muscle." Just as in physical fitness, you do the reps, you build the muscle, you do more reps, you build more muscle… except this time you're working with your mind, building and strengthening new neural paths to make mindfulness more accessible! The more you practice mindfulness meditation, simply being present in the moment, in a gentle, non-judgmental way, the more Mental Muscle you will build. With this new strength comes the opportunity to maintain clarity, insight, and a sense of calm, no matter what's going on around you. The situation may be the same but you have changed!
Here are some simple tips on finding time to meditate, within your busy life, not outside of it!
Before you begin, here's a simple meditation technique to use anywhere and anytime:
Centering Breaths & Clearing the Mind
You don't have to close your eyes to meditate! Simply take three slow, relaxed breaths as you breathe from your center and let thoughts go. Focus on silently saying, "in"… "out"… as you breathe. Clearing your mind is the key to mind/body relaxation!
Finding Time to Meditate:
#1 – Anything Can Become a Mindfulness Meditation!
Opening a can of dog food? Taking out the garbage? Brushing your teeth? Absolutely! This is the fabric of your life and there's no better place to start.
#2 – Look for Things You Do Repeatedly…
…and make them mindful to create a new habit. When you wash your hands, simply be present in the moment. Breathe in and breathe out…letting thoughts go.
#3 – Enjoy the Benefits of Mindful Multitasking!
Standing in line provides an opportunity to be mindful. The line won't go any faster if you're stressed. Simply relax and practice mindfulness meditation.
#4 – Every Mindful Moment Counts
As we strengthen neural paths the effect is cumulative—no mindful breath is wasted.
#5 – Change Your Life in 60 Seconds—Starting NOW!
Click here to listen to a brief meditation that will show you how immediate the results of mindfulness can be.