Easy Exercises to Keep Your Brain Healthy
Published: Wednesday, January 6th 2016
in Mindset
---
We're all for working out our bodies, keeping them fit and agile, but what about our brains? Strengthening the mind is arguably just as important. Build your brain and keep it healthy with these exercises from Karen Janusz, certified brain fitness facilitator, nutritionist, health coach, and more.
To stimulate and increase the activity of the right and left hemispheres of the brain, try the following exercises, Janusz says.
1. Six-Point Axis
"This exercise can be done sitting in a chair," Janusz replies. "The object is to try to recall something by using the visual, audio, and kinesthetic regions of the brain." She continues, in her own words:
First, decide what it is you want to recall. This could be a movie, a movie star, a restaurant, the name of a friend you haven't seen for a while, or any incident you would like to recall.
Focus on what it is you want to remember. Keep your face forward. Then, lift your eyes to the upper right, as though you would visually see the answer you are looking for. If you do not see it in the right hemisphere, go to the left.
Keeping your face forward, look up to the left. Do not turn your head. You are looking for an image of what you are trying to recall. It is visually stored in your memory.
Next, if you have not recalled the answer, look to your right ear. What does it sound like?
Then, look to your left ear. You may go through the alphabet. Does it start with a, b, c, or d, etc.? What does it sound like?
Next, while sitting with your feet flat on the floor, look down to your right foot. What does the word, picture, movie, or event feel like? This is your kinesthetic memory.
Last of all, if you still have not recalled the answer, look at your left foot, and ask yourself how it felt on the left side of your body.
"This process will normally help the person recall what they were trying to remember before they get to the kinesthetic activity," Janusz adds.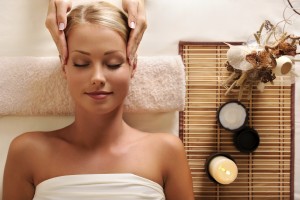 2. Cross Patterning
Janusz says:
This exercise can be done sitting in a chair or standing.
Start by tapping your right hand on your left knee, then your left hand on your right knee. This is Cross Patterning. Continue this exercise for a minimum of two minutes.
If you are standing, walk in place and alternately tap your right hand to your left knee and your left hand to your right knee. This will also enhance cardio-respiratory output if done for more than five minutes.
3. The Infinity Walk
"The Infinity Walk increases neuroplasticity by creating new neuronal pathways in the brain," Janusz goes on. "It reprograms the right and left hemispheres of the brain." She shares:
For this exercise you will need a space large enough to walk around a 20-inch diameter circle. A good tool to use for this would be a hula hoop or a fit ball on a stationary base.
Place the two balls or hula hoops on the floor far enough apart so you can walk around them.
Next, you will want to have a picture ( the TV would work for this) on the wall between the balls, about shoulder height.
Start walking around the ball or hula hoop with your eyes fixed on the TV or picture. Go halfway around the first object, then start making a figure eight by walking around the second object. Walk around, keeping your eyes fixed on the object on the wall and complete the figure eight by walking around the first ball or hula hoop on the opposite side.
Practice this technique for five minutes.
As well, Janusz suggests you try this technique. She explains the steps:
4. Brain-Builder Workout: Newspaper Word Scan
You need a light-colored felt-tip marker or highlighting pen and a timer.
Pick up the daily newspaper, or a magazine. Randomly select a word of at least three syllables, such as instrument, Pacific, factory, prevalent, president, redundant, and argument.
Set your timer for five minutes. Scan the newspaper, column after column, for repetitions of this same word you have selected.
When you see it, underline it with the felt-tip marker. Continue until the timer rings.
"Do this twice a day for a week. The goal is to train your mind to process verbal information both quickly and accurately," Janusz adds.