How to Cultivate Gratitude & Get Happy
Published: Wednesday, January 13th 2016
in Mindset
---
Gratitude might best be described as a genuine feeling of thankfulness or an appreciation of a benefit one has received. Importantly, a number of recent studies in the relatively new field of positive psychology have begun documenting a host of positive links between gratitude and our physical and emotional wellbeing. One of the most positive findings to share is that gratitude is actually a skill—a skill that can be learned and then consciously called upon to significantly impact our happiness emotional quotient or "EQ"!
Does this all sound too good to be true?! Not surprisingly, your initial reaction might be that of suspicion and skepticism. We are practically trained in this day in age to respond in this way, as we are so accustomed to being bombarded with messages of disaster and despair.
Rest assured, your happiness EQ really is in your own hands…albeit a little bit of regular and strategic practice is needed!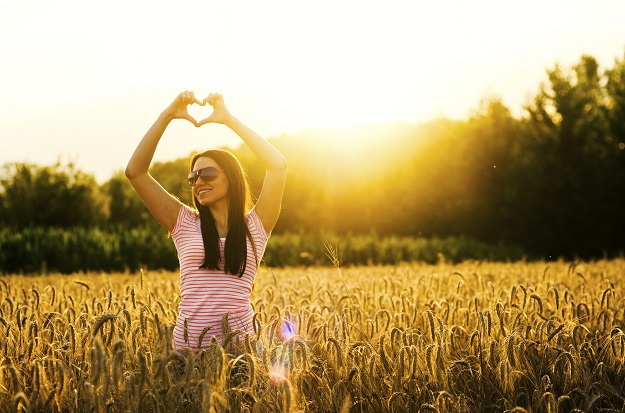 Arguably, approaching life with a "glass half-full" mentality is going against the grain of our societal norms. Even when looking at the fields of science and research, traditional studies are most often centered around "dis" function and "dis" ease. These fields of course have a very important place and purpose, yet instead we are choosing to focus upon and celebrate the relatively recent emergence of a field of study known as "positive psychology." In its infancy in comparison to more traditional models, positive psychology is defined as "the scientific study of the strengths that enable individuals and communities to thrive" with "a focus on personal growth rather than on pathology."
The definition of this field in and of itself is a breath of fresh air. Think about the difference between a day in the life of a traditional researcher versus that of a positive psychologist! In positive psychology, and specifically the study of the conscious practice of gratitude, researchers are identifying a host of positive benefits on physical, psychological, and social realms by those that are engaged.
Benefits can include:
Physically:
Stronger immune systems
Less bothered by aches and pains
Lower blood pressure
More active lifestyle
Improved quality and duration of sleep.
Psychologically:
Higher levels of positive emotions
More alert, alive, and engaged
More optimism and happiness
More joy and pleasure
Socially:
More helpful, generous, and compassionate
More forgiving
More outgoing
Feel less lonely and isolated
The 2011 documentary Happy highlights even more supporting research, reporting that our overall level of happiness is a combination of three main factors:
Genetics: accounts for approximately 50 percent
Societal situation, such as socioeconomic status and job: accounts for approximately 10 percent
Activities of intention, such as our chosen network of friends, community, philanthropic involvement, etc.: accounts for approximately 40 percent
Given these statistics, at least 40 percent of our happiness EQ is directly within our control by adding in positive activities and engagements to our life and pushing aside those that have negative consequences.
Dr. Daniel Gilbert, Author of Stumbling on Happiness, also reminds us that people overestimate how much impact both good and bad events have on their future. In other words, people actually do very well even when things do go badly. Remembering that the only certainty in life is in fact change itself can help us to accept that every moment in life, both positive and negative, is temporary.
Robert Emmons is another notable researcher in the field of positive psychology. Professor Emmons specializes in the psychology of gratitude and has defined gratitude as built upon two key components:
The affirmation of goodness: We affirm that there are good things in the world and that there are gifts and benefits that we have received. This does not mean that we view life as perfect, yet instead when we look at life as a whole, we choose to identify and acknowledge the good that exists.
We recognize that the sources of this goodness are outside of ourselves: We appreciate the positive traits within our own being, yet acknowledge that true gratitude includes a humble dependence on others. We recognize that other people—or perhaps even higher powers—give us many gifts, both big and small, that help us to experience the goodness in our lives.
Just as in learning any new skill, it is essential to break down, understand, and practice the key components inherent within. As we work on cultivating the skill of gratitude, try holding the affirmation of goodness and the recognition of goodness as outside ourselves at the forefront of our minds. Doing so while consciously practicing and applying the skill in new and meaningful ways can allow you to refine and perfect your skill, and ultimately positively impact your happiness EQ.
We encourage you to try these powerful practices in this new and more meaningful way! 
Experience the Practice of Meditation
Observe your thoughts: You can better develop this skill through the practice of meditation. The process of witnessing your thoughts and other inner processes is elegantly simple yet only comes with practice.  Meditation—even in small doses—can profoundly alter your experience of the world by remodeling the physical structure of your brain. It can also help you improve your ability to concentrate by helping you focus on something specific while allowing distractions to pass by. It can enhance your ability to notice more clearly what is happening around you, giving you a fuller perspective on the present moment. As you meditate, you may wish to choose a mantra, quote, or image of positivity.
Give the Gift of Your Time and Receive in Return
Align with an organization or charity: Time is the most precious commodity." You can dedicate your time in meaningful ways by aligning yourself with an organization you believe in, by supporting a movement that is close to your heart, and by helping to bring a voice or greater awareness towards initiatives that matter to you. Using your energy to volunteer, research, or educate is a wonderful way that you can give the gift of your time and energy. Strengthen your interior landscape by surrounding yourself with others that share similar same ideas and strengths and choose to see the good in all situations.
Explore Your Own Passions and Discover New Interests through Travel: Getting outside of your normal routine is a great way to see and feel the good in the world!
Neighborhood: Discovering new passions and interests can happen in your neighboring neighborhood! Go for a walk, bike ride, or run with your eyes and mind open. Take in the surroundings, notice what is new and different, feel the energy of the community. Make note of walking trails, bike paths, or shops that you may want to return to in the future.
Town or city:  Take a day trip to neighboring town or city. Pack a lunch, take a book, and relax in a new surrounding. Keep notes on your favorite things so you can remember special places, shops, and parks that you would like to return to.
State: Go on a weekend road trip! Read up in advance on some of the notable hot spots, outdoor spaces, restaurants, festivals, and events. Live like the locals and bring some new traditions back home with you. Be sure to capture some photos to add to your portfolio of favorite mini getaways.
Country: retreat! Enjoy an extended vacation. Whether it be for a week or a month, take the opportunity to learn about a new culture, a new language, a new food, a new tradition. Experiencing things for the first time brings out our inner child and a new zest for life.
Listen, Share, Reflect
Gratitude circle: Begin a new family tradition. You might begin each meal with a moment of silence, the opportunity to connect with those around the dinner table, and give thanks for blessings of the day and the meal about to be received. Give each person the chance to share three experiences they are grateful for in their day. No matter the challenges that may have been encountered, return to the thoughts of positivity and kindness.
Gratitude journal: Keep a notebook or journal on your bedside table. Begin the nightly ritual of taking a moment to write as the last thing you do before turning out the lights. Reflect on the day and choose three experiences that you are grateful for, as well as three people you are thankful for. Receive them in your heart as you close your eyes.
Retreat
One hour: Join a yoga or meditation class in the neighborhood. All major city centers and now even many rural towns offer studios and teachers. Dedicate just one hour of your time a day or even a week to your practice.
Half day: Sign up for a half-day workshop or take the afternoon off work on a Friday to go for a long walk or read a book in the park.
Weekend: If you can't get away, build your own retreat at home. Rise with the sun, practice meditation, eat from the earth, disconnect from all of your devices, and write in your journal. Be sure to create space for reflection and introspection in your journal and get lots of sleep—rest your soul.
Holiday: On your next holiday seek out a course or seminar in an area you have always been interested in. Some examples are: learning a new language or learning to paint. Take a week to develop a new skill set either before you go or while you are on vacation. Take a holiday alone and make friends with the locals and other travelers. Visit historic sites; take pictures. Rediscover yourself. Seek out a wellness retreat that incorporates a variety of wellbeing practices and holistic support tools and techniques.
A sense of gratitude and indebtedness to others is an important wellspring of a generous and virtuous life. Gratitude allows us to celebrate the present and helps us to magnify our blessings and overshadow our challenges.
We would love to hear from you as you experience these practices.  How else do you practice gratitude?  And how does the practice of gratitude bring you greater happiness and joy?
*Jennifer Findlay is the founder of Core Essence. Core Essence specializes in the design, development, and operation of innovative wellness and spa brand concepts, as well as hosts wellness travel adventures and spiritually nutritious retreats worldwide.