The Importance of "Me Time"
Published: Thursday, March 15th 2012
in Mindset
---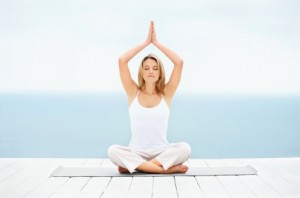 Let's face it. Most of us live in a fast-paced, blink-and-you'll miss-it environment. And when the world around you seems to be moving at warp speed, it's time to press the pause button and take some much-needed "me time." We've asked Dr. Eva Ritvo, Wellness Week expert, psychiatrist, motivational speaker extraordinaire and co-author of The Beauty Prescription, why it's important to step back, breathe and spend a moment for yourself — and for tips on how to make taking time for YOU just a little bit easier.
"It's easy to be pulled in so many directions," but forgetting to take care of ourselves is doing a disservice to ourselves, Dr. Ritvo says. That ultimately backfires in terms of health problems, becoming irritable and being less effective in our daily lives. "'Me time' is essential because you have to be in a good space before you can be essential in the real world," Dr. Ritvo adds. Taking care of yourself will lead to optimal health and wellness.
Dr. Ritvo's 5 Quick Tips to Achieve "Me Time":
Obtain good, sound sleep. "Allow enough time to sleep as the whole day will go better."
Make time for proper nutrition. "Honoring your body and taking time to eat — and not rush — is very important."
Allow yourself to indulge in fun, "even if that seems frivolous because that makes us feel good and be good in the world. Fun and relaxation is something we all need and deserve — and it's good for your body."
Exercise accomplishes everything. It's the one thing that positively impacts everything: It makes you feel good, learn more and become smarter. "Inner beauty is going to soar, as well as outer beauty. Weight is going to be better; it's going to have a positive impact on your health.
"Exercise is something you can do every single day, no matter the weather, and you don't have to spend a penny. All you need is a good pair of shoes."
Make time for 'me time'!
Dr. Eva Ritvo is a psychiatrist, motivational speaker, co-author of The Beauty Prescription.