National Simplify Your Life Week: 5 Easy Ways to Make Life Less Complicated
Published: Tuesday, August 4th 2015
in Mindset
---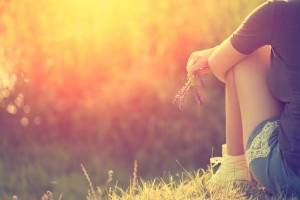 We could all use a little reminder that things don't have to be so complicated (cue the 2002 Avril Lavigne song, "Complicated," here)—and National Simplify Your Life Week is the perfect time to repeat that message. So we've come up with five easy tips that can help you simplify your life in one week—or even one day! From mindset to beauty to just plain living well, we've got you covered.
Learn to say no. If you're feeling pulled in all directions, with way too many requests and demands from work and friends and family, remember this: You can't please everyone all the time, so know that it's okay to say no.
Create a "goal" or "to-do" list daily. We all may fancy ourselves Wonder Woman (or Superman), but there are only so many hours in a day and a seemingly never-ending list of tasks to do. Give yourself a break—it's fine if you don't get everything accomplished right away. Make a realistic "to-do" list (we like to call them "goal" lists) filled with only the most important tasks that need completed that particular day. That phone call to mom? Important. That pile of laundry? It can probably wait a day or two.
Cut out the "noise." All the drama, all the gossip, all the pettiness that surrounds you—decide you don't need it. Ignore it, block it out, and your life will become simpler asap, we promise.
Do your prep work. Take some time on Sundays to get your wardrobe ready prior to the work week. That way, instead of having a stare-down with your closet every a.m., analyzing about what to wear, you can catch about 15 more minutes of beauty sleep.
Reduce the time of your beauty routine by half: Check out our recent "Busy Girl's Guide to Summer Beauty" post, complete with seven products that are sure to make your daily beauty ritual—and life—just a bit easier.
 Have any tips on how you simplify your life? Share in the comments!