How Safe Are Sleep Aids? Natural Ways to a Good Night's Sleep, Plus an Aromatherapy Giveaway!
Published: Friday, March 15th 2013
in Mindset
---
Sleeping pills have been linked to a 4.6 times higher risk of death from cancer, heart disease, and other ailments, when compared to those that do not use prescription sleep medication, a study released last year by Scripps Clinic found. Scary stuff! It seems that more and more people each year are looking to sleep aids, whether they are prescription or over-the-counter medication (which often contain anti-histamines which our bodies can become immune to over time!). In fact, according to the National Sleep Foundation, 48 percent of Americans report insomnia occasionally, while 22 percent experience insomnia almost every night!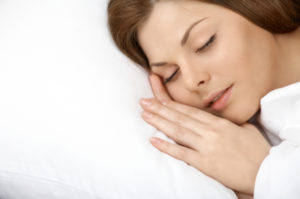 With so many people suffering from lack of those oh-so-necessary zzzs coupled with that scary percentage released by Scripps Clinic – we got to thinking that it's probably time we all had some safe and effective natural alternatives to these clearly dangerous drugs! We caught up with Bedtime Network co-Founder Cindy Bressler to find out their take on sleep aids, plus be sure to scroll down for details on a natural sleep aid giveaway!
The Bedtime Network philosophy is that the "true secret to sleep is based on what you do at bedtime." (Last Wellness Week they shared ways to create a bedtime ritual that's right for you).
"Fortunately," says Bressler, "there are a host of wonderful natural products, foods, nutraceuticals, and aromatherapy items that can help you create a successful bedtime ritual." Bressler prefers products that can be used each night, so your body learns to crave and anticipate it (much like it would become dependent on a pill.) "Whether that includes a foot massage or a lovely soak in your favorite Dead Sea salts with lavender, the key is that you do it each night," she explains.
Bressler went on to encourage stretching, chamomile or linden flower-based tea, and even soothing music like their very own award-winning "Bedtime Beats – The Secret to Sleep," anything to settle your body and mind for an hour to an hour-and-a-half before you slip into sleep.
Now we can totally get behind each and every one of those suggestions, but one that our bodies have currently been craving is lavender aromatherapy – especially Relax Lavender Concentrate from Amala, which uses lavender harvested from Southern France.
"Lavender is known for its aromatherapeutic ability to calm, comfort and soothe and sets the stage perfectly for quiet rest and peaceful sleep," Amala Co-Founder Ute Leube explains. In fact, Leube uses this convenient, travel-sized, roll-on aromatherapy to treat jet lag whenever she travels around.
Each rollerball is valued at $20 and can be purchased on amalabeauty.com, but you can enter our Pinterest contest to win your own right now! The rules are simple:
Follow SpaFinder Wellness on Pinterest.
On your own Pinterest, create a new board and title it "Sleep Sanctuary."
Pin this article, and at least five other article's from The SpaFinder Wellness Blog (just click that Pinterest button up top!), as well as any other images from around the web that really show what you would want in an ideal sleep sanctuary (think: canopy beds, hammocks on the beach, etc.)
When you're done, head over to SpaFinder Wellness' Pinterest and copy and paste your board's URL into the comments section of the contest pin located here.
You might also like:
Got Sleep? 5 Tips to Help You Rest Through the Night
Sleep Hygiene: 3 Simple Ways to Create Your Best Sleep Environment to Sleep Better
Travel Sleep: 10 Tips to Sleep Better While Traveling
The Power of Turning Off & Tuning In: 3 Ways to Give Yourself the Gift of Silence
Too Stressed to Meditate? Try These 6 Easy Tips!