Sip & Sleep: Dream Water
Published: Friday, March 2nd 2012
in Mindset
---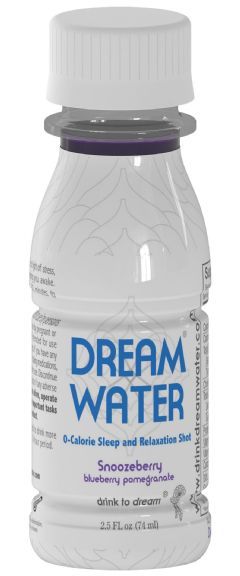 According to a 2006 study by the Institute of Medicine, 70 million Americans suffer from sleep issues. I am one of them. I've struggled with falling and staying asleep for a very long time and I have finally found the perfect solution! Dream Water is an all-natural, zero-calorie, no preservatives, 2.5-oz shot of "Zen and Zzz's."
There are three ways to use Dream Water:
If you have trouble falling asleep, drink one of these tasty shots 20-40 minutes prior to bedtime.
If you have trouble staying asleep, keep a shot next to your bed and drink it when you wake up in the middle of the night. Within 20 to 40 minutes you will be back in dreamland.
If you're like me and have trouble with both falling and staying asleep drink half of a Dream Water prior to bedtime and then keep the other half at your bedside if you happen to wake up.
The science behind the product is the ingredients of GABA, melatonin and 5 HTP. GABA (Gamma-Amino Butyric Acid) is an inhibitory neurotransmitter that blocks the transmission of one cell to another in the central nervous system. This prevents the over-firing of nerve cells and helps to promote tranquility while reducing stress and anxiety. Melatonin is a chemical which governs the body's internal clock and helps us get to sleep. 5 HTP, 5-Hydroxytryptophan, is an amino acid the body produces from tryptophan and converts to serotonin – a mood-enhancing chemical. It also improves quality of sleep by stimulating the production of melatonin in the body.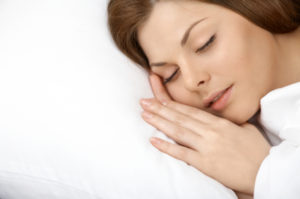 Dream Water comes in three delicious flavors:
Snoozeberry – blueberry and pomegranate (my personal favorite!)
Lullaby Lemon – lemon with hints of tea
Pineapple PM – pineapple
Celebrity fans of these tiny shots include Cate Blanchett, Alec Baldwin, Khloe Kardashian, Kristin Chenoweth and Bill Clinton. Kathie Lee and Hoda from the Today Show featured the water as one of their "Favorite Things." Make Dream Water one of your favorite things and enjoy the sweet dreams tonight!
Dream Water, 12-pack of 2.5-oz bottles, $38.99 www.drinkdreamwater.com