Sleep Hygiene: 3 Simple Ways to Create Your Best Sleep Environment to Sleep Better
Published: Monday, February 18th 2013
in Mindset
---
So, you might be wondering, what's sleep hygiene? And no, the answer is not bath time before bedtime (although, that could be a part of it!). Instead, sleep hygiene is a bedtime ritual, or routine, that is necessary for you to sleep better, a.k.a. getting a normal and restful night's sleep in order to be alert and ready for the next day. Because this is crucial to wellbeing, we've taken the opportunity to get some grade-A sleep-better tips from the experts.
"The most important sleep hygiene measure is to maintain a regular sleep and wake pattern, seven days a week. It is also important to spend an appropriate amount of time in bed, not too little, or too excessive," the National Sleep Foundation says.
Ok, class, raise your hand if you feel like you're spending way too little time sleeping…everyone's hand is raised, right? Well, that's because there are so many things these days keeping us awake, or at least keeping us from getting a normal night's rest. From stress to social media to that sip of bubbly, so many of us aren't practicing very good sleep hygiene!
Known for its "napping" concept, we spoke with Nicolas Ronco, chief executive officer and founder of New York City's YeloSpa, which  recognizes the importance of quality sleep and allows guests to enjoy sleep treatments in pod-like cabins. Ronco shared with us his top three sleep-better tips and we just have to share them with you so you can better find some Zen in zzzs:
Eliminate all electronics and light emitting objects
First things first: it's time to get over our (read: my) irrational fear of the dark and shut off the lights! Ladies and gents, this includes smart phones, too!
"The light that is emitted influences the body's production of melatonin," says Ronco.  "Melatonin triggers the body to let us know it's time to sleep – when this is inhibited, our sleep cycle is affected."
Another great reason to unplug? Our electronic devices emit electromagnetic fields which can cause restlessness! Check out eight other Feng Shui bedroom design tips!
Ritualize your sleep
"We should create a ritual that prepares us for sleep," urges Ronco, adding that this can, in fact, mean bath time before bedtime!  "A warm bath with bath salts and essential oils, such as lavender, naturally triggers a relaxation response and puts the body in the perfect position for a restful sleep."
Prepare your sleep cocoon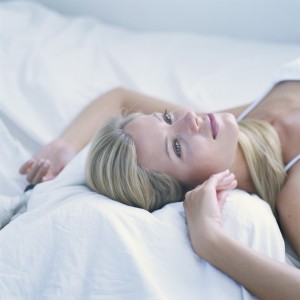 "Here at YeloSpa, we customize the sound, aromatherapy, and lighting in our treatment rooms," explains Ronco. "You can do this at home as well."
Try Sleep Soothing Mist, an aromatherapy mist by Essence of Vali, Ronco suggests. As someone who uses this wonderful spray around bedtime, I would have to agree!
"Spray your room with the mist, which contains lavender, cedar wood, and marjoram, and dab the oil on your pillow case or pajamas," says Ronco. "Create a simple, clean, and organized environment that is your own sleep sanctuary!"
Another tip we have to add is directly related to hygiene! According to a National Sleep Foundation 2010 "Bedroom Poll," 71 percent of those polled reported sleeping better on clean sheets. Clean sheets are not a luxury; they are a necessity for a restful sleep. So keep your linens fresh by always having an extra (clean!) set around and by changing your sheets once a week.
*    *    *    *    *
You might also like:
Back to the Future: 15 Ultra-Modern Space-Age Resort Spas & Treatments
Spa + Sleep = Pure Relaxation: Treatments to Help You Snooze
Sip & Sleep: Dream Water
Aromatherapy 101
Audio for Dreaming: Sound Suggestions for Better Sleep