Canyon Ranch Recipe: Halibut with Avocado Sauce
---
While this dish may sound fancy, it couldn't be simpler to make. For those looking for a quick, delicious and healthy meal, give this Halibut with Avocado Sauce recipe from Canyon Ranch a try – even the most inexperienced of cooks will enjoy great success with it!
Delicate yet meaty halibut is a high-quality protein, rich in a variety of important nutrients including selenium, magnesium, phosphorus and potassium; B vitamins B12, niacin, and B6; and last but not least, omega-3 essential fatty acids. Not only do these nutrients help with cardiovascular health, but they also help with growing healthy hair and nails, while also promoting healthy skin. Avocados can also work anti-aging wonders.
This light and tasty recipe is perfect for a grilled summer dinner, so give it a try and let us know what you think!
Halibut with Avocado Sauce (Serves 4)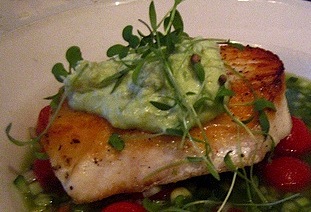 1 medium avocado, peeled and sliced
¼ cup nonfat sour cream
2 tbsp fresh lime juice
¼ tsp hot sauce, such as Tabasco
1 tsp ground cumin
1 tbsp white wine
4  4-ounce halibut fillets
1 tsp sea salt
½ tsp freshly ground black pepper
½ cup diced red onion
½ cup diced tomatoes
4 tbsp chopped cilantro
1.  Combine avocado, sour cream, lime juice, hot sauce, cumin and white wine in a blender container and puree.
2.  Preheat grill or broiler.
3.  Season halibut with salt and pepper. Grill or broil for 3 to 5 minutes on each side or until fish flakes easily.
4.  Serve 1 fish fillet with 2 tbsp avocado sauce, 2 tbsp each red onion and diced tomato and 1 tbsp cilantro.
Nutritional information per serving: 235 calories;15 g carbohydrates; 8 g fat; 38 mg cholesterol; 37 g protein; 400 mg sodium; 4 g fiber