The Dukan Diet: Royal Success or Risky and Unsound?
---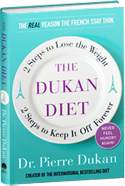 We've all heard of the Atkin's Diet, and now, its French counterpart, the Dukan Diet, is gaining some attention, largely steered by the fact that the mum of the Royal Wedding's bride-to-be, Kate Middleton, and reportedly even Kate herself, are among other high-profile followers of the diet.
The Dukan Diet, which was created by Dr. Pierre Dukan in 2001 and just celebrated its book release in Europe and the U.S. last week, has been equated to the "French Atkins." The diet implements a low-carb mentality, but focuses on low-fat protein instead of the higher-fat proteins seen in the Atkin's diet.
The high-protein, low-fat, and low-carb diet is broken up into four phases:
Attack phase avoids all carbs, allowing only lean protein and water to shed weight quickly.
Cruise phase brings in vegetables, balancing the proteins on alternate days to slow down the weight loss.
Consolidation phase, designed to prevent rebound weight gain after the focus on shedding pounds in the first two phases. This phase re-introduces carbs slowly.
Stabilization phase, which says you can eat whatever you want, except for one day a week when you have to implement the rules of the Attack stage.
According to Dr. Dukan, if you stick to this stabilization phase for the rest of your life, you will keep the weight off indefinitely.
The list of VIP followers, which reportedly boasts names like Jennifer Lopez, Giselle, Kate Middleton's mother, and in some reports, Kate Middleton herself, has brought the diet into the media spotlight, but the question is, will it catch on? As with any lose-weight-fast approach to dieting, while it looks like the diet has worked for some, there is still much controversy over how healthy the Dukan Diet is.
In fact, the diet was named one of the five worst diets of 2011 by the The British Dietetic Association, and The New York Times reported that France's national food safety agency says its "one of 15 imbalanced and potentially risky diets."
Of course, with any diet, we believe it's best to discuss the details with your physician to make sure you're staying healthy throughout the process. What do you think, is the Dukan Diet just a version of the unsuccessful Atkin's Diet, charming followers with its French accent, or would you give it a try?