Healthy Snacks to Throw in Your Beach Bag this Summer
Published: Friday, July 17th 2015
in Nutrition
---
Next time you head out for a day on the beach or next to the pool, stock your beach bag with healthy snacks!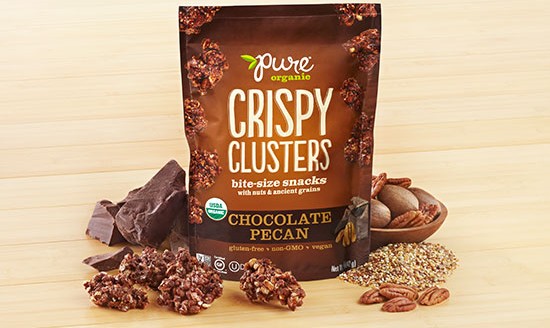 Pure Organic Crispy Clusters
These bite-sized crunchy snacks from Pure Organic have become a fast favorite! Made with gluten-free oats, nuts, and ancient grains you can pick from one of three flavors: Salted Caramel, Chocolate Pecan, and Honey Peanut. At just $4.95 for a bag and under 120 calories per serving, these little sweet and salty clusters are the perfect healthy snack for when you're on-the-go!
Blue Print Cleanse Juices
Whenever I plan for a day spent with my feet firmly planted in the sand, refreshments are must! In addition to packing along one of my favorite water bottles filled with ice cold H2O, I love to grab one of Blue Print Cleanse Juices. My current go-to is the Spicy Apple flavor. It's a refreshing blend of tart and sweet and spicy with apple, lemon, cayenne, and ginger. This specific combo does contain a lot of sugar so I try (read: try) to just enjoy half and store the rest in a cooler for later.
Lentil Snaps & Snapea Crisps by Harvest Snaps
If like me you have a chip addiction (seriously my unhealthy weakness!) you will LOVE Lentil Snaps and Snapea Crips. Made with baked lentils and snap peas, these airy crisps give you loads of flavor and the bite of chip without the greasy side-effects. My favorite are the spicy Wasabi Ranch Snapea Crisps. Twenty-two snaps is a serving size and has just 120 calories along with fiber, protein, iron, potassium, and calcium plus they have half the sodium of typical potato chips.
In-Season Fruits & Veggies
Of course packaged snacks aren't the only ones I pack into my beach bag I also stock up on in-season fruits and veggies like watermelon, peaches, plums, nectarines, tomatoes, and cucumbers!