Drink More Water: Hydration Tips for Warmer Weather
Published: Friday, May 22nd 2015
in Nutrition
---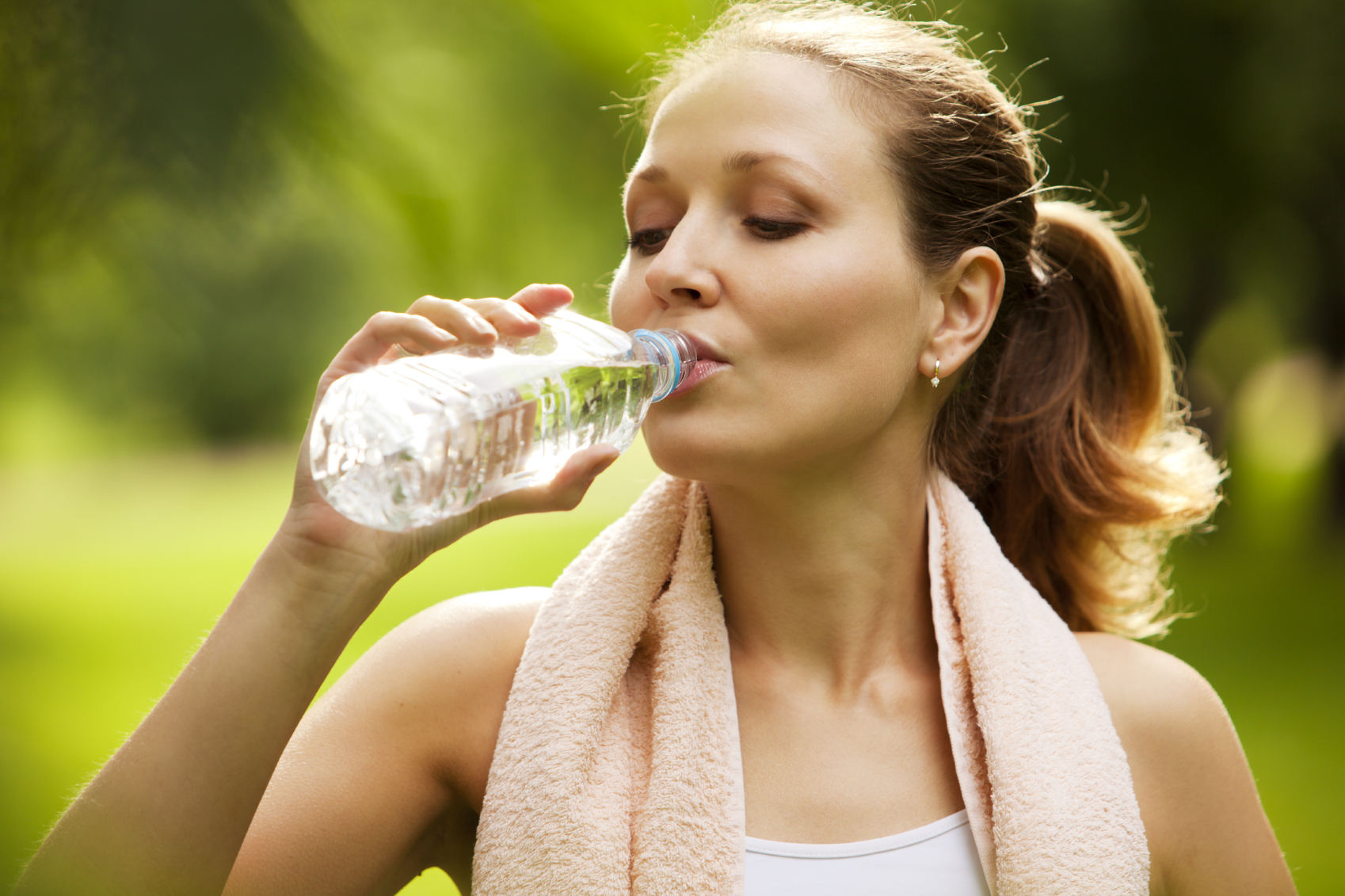 Whether you already live well, all year round, or you're just getting started along a healthier and happier path, let Global Wellness Day be the "one day that can change your whole life." We say yes to GWD—over the next few weeks we'll be sharing inspiration, tips, and tricks to help you feel good and live well, not only on GWD, but all 365 days of the year! As part of the GWD 7 Step Manifesto, we're encouraged to drink more water. Use these tips from Dr. Wendy Bazillion to increase your intake!

Yes it's true, summer is just around the corner, and as the temps get higher, it becomes even more important that we stay hydrated! Thanks to the high heat we tend to sweat more (or glisten, for my fellow ladies), and that excess sweat leads to dehydration, which has some serious consequences. It's said that we should be drinking at least eight glasses of H2O a day, and thanks to these helpful tips from Wendy Bazilian, DrPH, RD, author of The SuperFoodsRx Diet, we're on our way to being H2O-healthy. Read on for easy ways to jazz up plain water, tips for drinking more, and reasons why its so important!
"What if I don't like plain tap water?"
How often when you're thirsty do you opt for a soda or a juice and avoid what you really need? There are many choices if you want to drink more water but don't like the taste of plain tap water. Here are some of Dr. Bazilian's suggestions:
 Bottled water – fizzy, plain, naturally enhanced (essence of lemon, lime, grapefruit, etc.)
Flavored water (sugar-free; free from artificial sweeteners, too). . .try water with a splash of juice or a variation of an Arnold Palmer (lemon juice or other 100 percent juice and iced tea)
Water with a squeeze of lemon, grapefruit, or orange
Green tea
Café aulait (half coffee, half low-fat milk…yes, it counts!)
Low-sodium, broth-based soups and veggie purees
Veggie and fruit smoothies
Caffeine-free herbal teas
"I love water, but don't drink enough of it!"

Now, what if you do love water but just know you aren't drinking enough of it?  Here are some of Dr. Bazilian's tips for increasing your intake of H2O:
Start the day with a nice glass of water.  Place a carafe and glass of water by your bedside the night before or designate a special glass for the bathroom beside your toothbrush. First thing in the morning, drink that glass of water, and you'll be off to a good start.
Fill six to eight 8-ounce bottles or three to four 16-ounce bottles of water each morning (or the night before) and put them on the front of a shelf in the refrigerator.  Drink them throughout the day and by the end of the day, your goal is to have consumed them all.
Measure out eight cups of water into a pitcher that you can leave on your table or at your desk.  Add lots of sliced lemons, oranges, cucumbers, kiwi, or other fruit to make it tasty and pretty. Or add 1/2 cup of a favorite 100-percent juice for color and a nice flavor "splash." Your goal is to finish the contents by the end of the day.
Carry a BPA-free water bottle with you during the day.  Refill it at water fountains with filtered water throughout the day.
Every time you pass a water fountain, take eight to 10 large gulps (approximately one cup).
Drink tea—hot or cold.  Green tea has antioxidants that can help promote good health and can help with blood pressure and cholesterol management.  You get a "metabolic boost," too!
Include milk: low-fat and fat-free milk contains 90 percent water and nine essential nutrients.
Have a soup or salad every day; they comprise 70-95 percent water, plus, lots of nutrients, too.   Plus, the added benefits of antioxidants, fiber, and other cancer-fighting phytochemicals in fruits and vegetables can help reduce the risk of certain chronic diseases.
Eat more fruits—at breakfast, plus, one to two additional times daily.
Dr. Wendy Bazilian is a writer, researcher, educator, food enthusiast, and award-winning journalist who brings extensive experience in nutrition science and counseling to her work. A registered dietitian and an American College of Sports Medicine-certified health and fitness specialist, Dr. Bazilian has been the nutrition advisor at Golden Door Fitness Resort and Spa, Escondido, California, since 2003. She is also co-owner of Bazilian's Health Clinic in San Diego, author of The SuperFoodsRx Diet, and has contributed to a number of books, including the James Beard- and IACP-nominated Golden Door Cooks at Home, and the original New York Times bestseller SuperFoodsRx.