Safeguard Your Health with Seasonal Veggies
---

Women are often the head and heart of every household and family, so make sure the women in your life (including yourself if you're one, too) are taking the time to take care of themselves, especially this week, which marks the 13th annual National Women's Health Week.
While there are many ways to celebrate, including a visit to a healthcare professional, avoiding unhealthy habits, managing stress, being active, and getting enough sleep, you can also make health a top priority by eating fresh, in-season vegetables. Brimming with nutrients, much of spring's bounty can—and should be—eaten raw, if possible, for optimal health benefits. A bonus? Many of these veggies are incredibly low in calories.
The week-long health observance, coordinated by the U.S. Department of Health and Human Services' Office on Women's Health, kicked off on Mother's Day, May 13, 2012, and is celebrated until May 19, 2012. As the theme for 2012 says, "It's Your Time."
Here are a few spring veggies that we look forward to every year that will satisfy your taste buds and feed your body.
Pea Shoots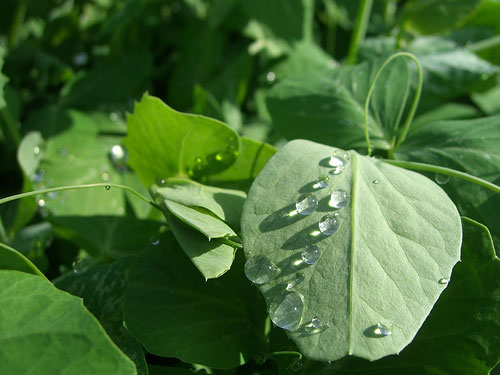 These pretty greens are delicately crispy and can be prepared many ways, including raw in salads. With seven times more vitamin C than blueberries, pea shoots are a powerful antioxidant that helps to protect the body from free radicals. They also contain eight times more folic acid than bean sprouts, which is needed to make healthy cells and blood; this is key for pregnant women as it's necessary for the development of the unborn baby. And, with four times more vitamin A than tomatoes, pea shoots can benefit the skin and help keep the immune system healthy.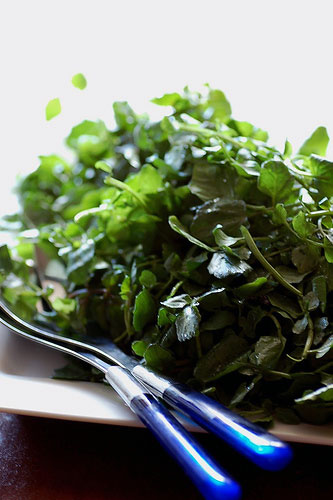 Watercress
Another green that does best raw, watercress is a slightly bitter, yet peppery and spicy green that can also be used in a variety of ways. From salads to stir-fries to soups, watercress is an anti-inflammatory that is said to have anti-aging properties as well as abilities to fight vision-impairing illnesses. It's also said to be good for the liver and for the heart. Dieters: Watercress is also super low-calorie, containing fewer calories than broccoli.
Try these recipes:
Miso Salmon Salad
Zucchini Carpaccio with Crab, Pine Nuts, Chili, and Mint Salad
Indonesian Toasted Cashew Chicken-Mango Salad with Baby watercress and Tamarind-Lime Vinaigrette
Fava Beans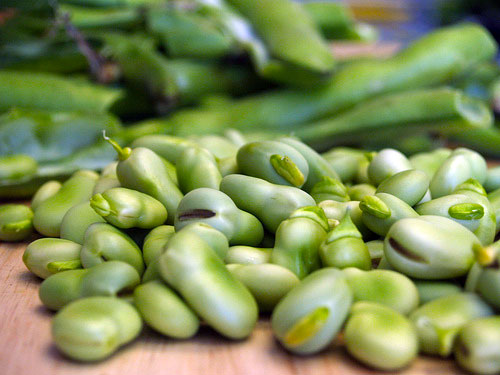 Unless it's been unseasonably warm in your area of the country, keep an eye out for these in late spring/early summer. In a Harvard study from the International Journal of Cancer, 90,638 cancer-free women between 26 and 46 years old were monitored for eight years. Women who ate beans or lentils two or more times per week had a 34 percent lower risk of breast cancer than women who ate them one or fewer times per month. "Natural substances in beans appear to protect our cells from damage that can lead to cancer," Cynthia Sass, MPH, RD, author of S.A.S.S. Yourself Slim, says. "One in particular, called saponins, has been shown to block the reproduction of cancer cells and slow the growth of tumors."
Try this recipe:
Spring Fava Bean Spread with White Truffle Oil, Shaved Pecorino and Crostini
Arugula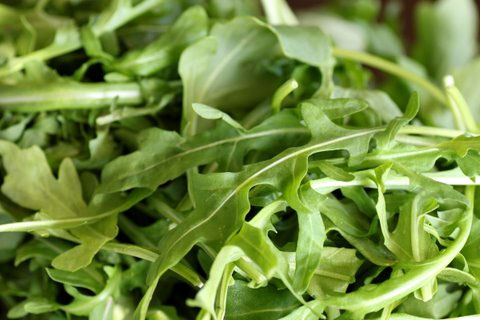 Low fat, cholesterol free, very low sodium, a good source of folate and calcium, and an excellent source of vitamins A and C, arugula is rich in phytonutrients, which may reduce the risk of several kinds of cancer, including breast, stomach, and colon. Look for bright green leaves that are delicately crisp, and stems that are neither withered nor slimy.
Try these recipes:
Beet Spring Salad
Mediterranean Sandwich