Products We Love: i heart keenwah, All-Natural Quinoa Clusters
---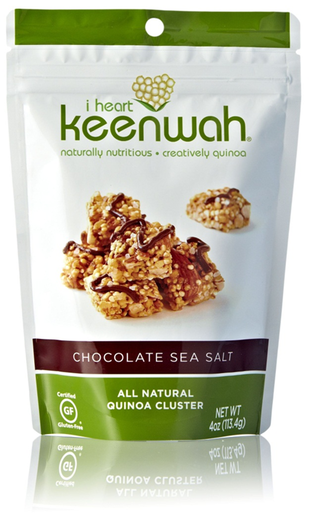 We know we usually spotlight beauty products in this column, but we're branching out to cover all beauty, health, and wellness products, which, lucky for everyone, means food, too! For this edition of products we love, I can safely say that, as the product name states, i heart keenwah.
The sweet little crunchy clusters of quinoa come in bite-sized pieces and offer a deliciously convenient way to enjoy and snack on the ancient grain. We tried the chocolate sea salt flavor and couldn't get enough. Each serving of about seven pieces is just 120-130 calories, depending on the variety.
Packed with nutrients, quinoa is the only whole grain that's a complete source of protein. It contains all nine essential amino acids, the same kind of protein found in meat and dairy, making it a satisfying snack, perfect for an afternoon pick-me-up. Quinoa is also gluten-free, low-glycemic, and high in fiber, magnesium, and vitamins. In fact, did you know that the United Nation's Food and Agriculture Organization says it is so nutritious, it can be substituted for mother's milk? Given its crunchy and bite-sized nature, we don't know of any babies that could safely eat i heart keenwah, though kids would probably love these snacks.
Find i heart keenwah in specialty food stores, or you can order it online at iheartkeenwah.com. Choose from four flavors: almond, cranberry cashew, ginger peanut, and chocolate sea salt.
$4.99 for 4-oz. bag; abesmarket.com | $59.88 for 12 4-oz. bags; iheartkeenwah.com