The Skinny on 7 Different Diet Types
Published: Tuesday, March 15th 2011
in Nutrition
---
Vegetarian, vegan, Atkins, the raw food movement…right when we're learning about one diet, it seems another takes center stage. From the brown rice of macrobiotic to the high protein-regimen of Atkins, here's a quick breakdown of the different types of eating plans out there. Which one works for you?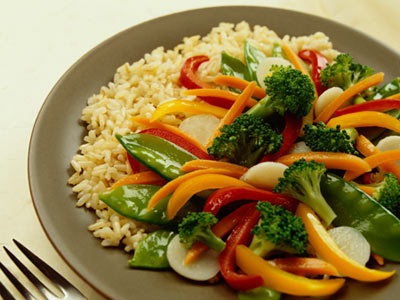 Atkins Diet
The Skinny: Low in carbohydrates, high in protein. Bodies burn carbs first for energy, followed by fat. The Atkins diet suggests that the restriction of carbs leads the body into what's called ketosis, or burning its own stored fat for energy.
Macrobiotic Diet
The Skinny: Those following the low-fat, high-fiber macrobiotic diet stick mainly to locally sourced, organic foods, whole grains, vegetables, beans and small quantities of fish, fruits, and nuts. More of a spiritual lifestyle than a simple eating plan, macrobiotic stems from the Greek word meaning "long life," (though it originated in Japan). Highly processed or refined foods are avoided.
Mediterranean Diet
The Skinny: Fish, fruits, vegetables, and high-fiber grains equals the heart-healthy Mediterranean diet. On average, 35-percent of daily caloric intake for Mediterranean dieters is from fat: healthy, unsaturated fats originate from olive, flaxseed, or fish oils; saturated fats like butter are limited, as are sweets and desserts.
Raw Diet
The Skinny: The raw diet emphasizes uncooked and unprocessed plant foods (think sprouts, legumes, whole grains, beans, and nuts); in fact, the diet comprises an average of 75-percent fruits and veggies. Not on the menu? Alcohol, refined sugar, and caffeine, and anything cooked (from a food dehydrator, not on a traditional stove or oven) above 118 degrees.
South Beach Diet
The Skinny: The South Beach diet, similar to the Atkins diet, restricts sugar and starches and minimizes carbs, as a way to essentially curb people's carb enthusiasm – though healthy carbs such as whole grains are allowed. The South Beach regimen comprises three phrases, the first of which the person eats lean proteins and fiber-rich foods and restricts foods like bread, rice, potatoes, pasta, alcohol, and more for 14 days.
Vegan Diet
The Skinny: A diet free of all animal-based products or by-products including eggs, dairy items, honey, and even cosmetics or clothing (wool, leather, etc.). For many vegans, including celebs like Alicia Silverstone, a vegan lifestyle is practiced for health, environmental, or ethical reasons.
Vegetarian Diet
The Skinny: Traditional, "true" vegetarianism finds meat, fish, and poultry off limits; however, the way of eating for vegetarians is suggested to be a bit lax, running the gamut from lacto-ovo vegetarians, who stay clear of animal but eat eggs and milk products, to pescatarians, vegetarians who nosh on fish and seafood, and lacto-vegetarians, who avoid eggs though not dairy products.