Steep Into Restful Relaxation with Chamomile Tea
---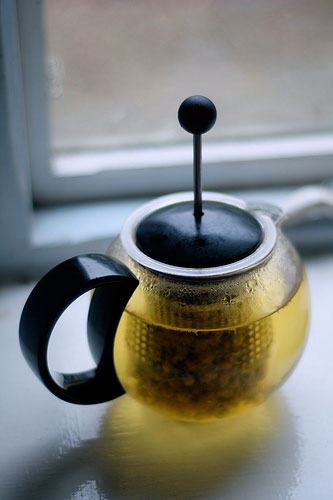 Chamomile, a flower in the daisy family and one of the most popular herbs used in tea, has a long history of being everything from a cold fighter, an anti-inflammatory for aches and pains, a stress reducer, and last but not least, a gentle sleep aid.
Said to relax muscles in your body and your brain, chamomile helps to combat stress, ease menstrual cramps, and encourage sleep. The herb's essential oils can even be used to rejuvenate skin and regenerate cells, helping with skin irritations such as bites, stings, and burns.
When winding down after a long day, it's recommended to brew your cup of tea with one or two tea bags, letting them steep for about 10 minutes to maximize the release of oils and reap the medicinal effects of the tea. Try making a cup 30-40 minutes before bedtime to encourage sleepiness – we love adding some honey to our nightly cup!
If you're allergic to ragweed, chamomile may not be the tea for you. And, as with anything, too much chamomile can have side effects of nausea and vomiting for some, so be sure to drink it in moderation – drinking more chamomile tea won't necessarily make you sleepier. Lastly, if you are pregnant, nursing, or taking other medications such as blood thinners (chamomile contains coumarin, which is also a blood thinner), be sure to talk to your doctor about drinking chamomile tea, or taking any supplements containing chamomile.
And be sure to check out these Wellness Week™ spas that will be offering herbal body treatments at $50 prices, or for 50% off in March: