Water & Wine: Complete Harmony & Grand Tastings at Kohler
---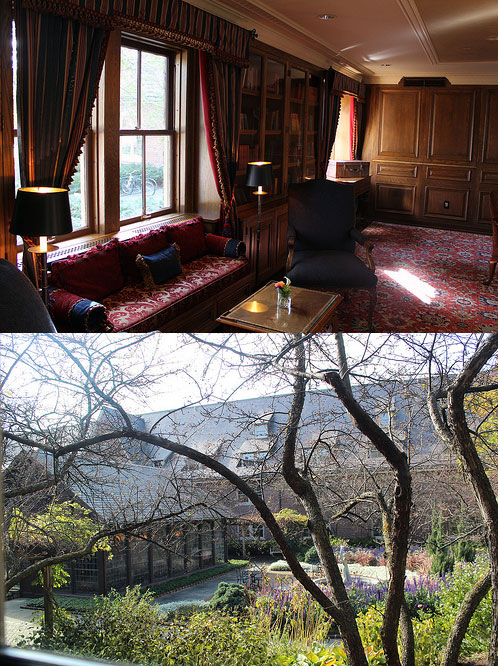 In the quaint village of Kohler, Wisconsin, about an hour's drive from the Milwaukee airport, sits a Forbes Four Star-awarded spa, AAA Five Diamond resort hotel and a National Register of Historic Places property all rolled into one – The American Club. Village charm and Old World elegance describe the property to a tee, and its spa and dining options follow suit.
At The American Club, dark wood, deep reds and accents of gold and fresh flowers envelop your senses as you walk into the resort's main brick building located amidst substantial trees and well-manicured gardens and lawns. During a recent autumn visit, breezy and vibrant fall foliage set the scene.
My sister and I were visiting to check out the Kohler Food & Wine Experience, a busy time for the resort and Kohler Waters Spa, located in the Carriage House across the street from The American Club's main building. Also nearby are the Kohler Design Center and the Shops at Woodlake, where the festival's main stage hosted celebrity chefs daily and many other seminars were held.
When we weren't watching Jacques Torres create delicate caramel cages for decadent desserts or learning about wine and cheese pairings, we were eating at the resort's AAA Five Diamond restaurant, The Immigrant, relaxing at the spa and admittedly, acting like we did growing up in the amazing hotel room bathroom, complete with Kohler bath appliances and fixtures.
Dining at The American Club
While there are a variety of dining options at The American Club, including the elegant Wisconsin Room, where breakfast, lunch and dinner are held, the pub Horse & Plow and The Winery Bar, featuring a regional cheese room, enjoy at least one dinner at The Immigrant during your stay. With the rustic intimacy of an old cellar and stone walls lining the hallways down to the dimly lit restaurant, friendly hosts and waitresses greeted us as we made our way down to dinner.
Having had heard about the restaurant's new Grand Tasting Menu, we had to indulge. Spanning over eight courses and requiring full table participation, we prepared for a lengthy feast. Wine pairings for each course are also available.
From Potato-Crusted Maine Lobster Cake with confit garlic and tarragon aioli to an Old Fashioned in the form of a sorbet with cherry and orange gelée, our waitresses were extremely well-versed in the menu and sincerely gracious as they served dish after dish. Four hours and eight courses later, we finished (hooray!) what would be a memorable meal and were off to our comfortable room…but not before the hostess offered us some delectable, original Kohler chocolates on our way out.
Stillness + Harmony = Complete Harmony
In paying the well-known Kohler Waters Spa a visit, I was lucky enough to try two water treatments – the spa's pride and joy. Not only are there a variety of bath treatments to be had, the spa recently rolled out a new 80-minute, all-encompassing experience that combines three services in two rooms. The treatment, Complete Harmony, was inspired by the newly renovated Stillness and Harmony rooms and is the first service at Kohler Waters Spa to use two rooms.
Because the rooms are designed specifically to be used together for one treatment and allow the guest to move comfortably from one room to the next, Complete Harmony is a perfect fit. Beginning with the Kohler Signature facial and a Moroccanoil hair treatment, my therapist cleansed, examined and exfoliated my skin with Kerstin Florian products as I lay on the facial table in the dry Stillness room. Calm blues and grays surrounded me as my face was pleasantly steamed and the Moroccanoil treated my locks. A rehydrating algae gel mask was then applied to work its magic during the body exfoliation and bathing portions of the treatment. With the mask on my face and oil in my hair, being able to transition between rooms in privacy, unlike at other spas, was more than appreciated.
In the next room, my therapist exfoliated my body with Olaive Chardonnay Body Scrub under the Kohler custom Vichy shower. Then came the bath, which was full of therapeutic mineral bath salts and Olaive Chardonnay Bubble Bath. After about 15 minutes of enjoying the whirlpool, with settings that I could control on my own (and an amazing pair of jets by my neck), it was time to get out, dry off and lie back down on the facial table. A complete moisturizing application with Olaive Chardonnay Body Butter and facial moisturizer was performed back in the Stillness room, concluding the treatment meant to create a rejuvenating harmony for the body and spirit.
Year-Round Beauty
Even when the Food & Wine festival isn't being held, and beyond these fabulous new additions to the spa and dining menus, there are plenty of other activities and delicious meals to be had at The American Club and its surrounding properties. Beautiful and enjoyable in every season, the village of Kohler offers a quiet escape and a peaceful environment to find harmony within yourself, whether it be through soaking in the natural setting, decadent food, choice wines or restorative water.