Dos & Don'ts For Making an Effective Offer on Spafinder
---
Spafinder.com's redesigned website and new listings pages make creating effective special offers easier and more powerful than ever before.
If attracting new customers is important to building your business, you should maximize your Spafinder partnership by creating an offer that includes a nice discount, a special service or an added benefit that's sure to attract new guests and drive business.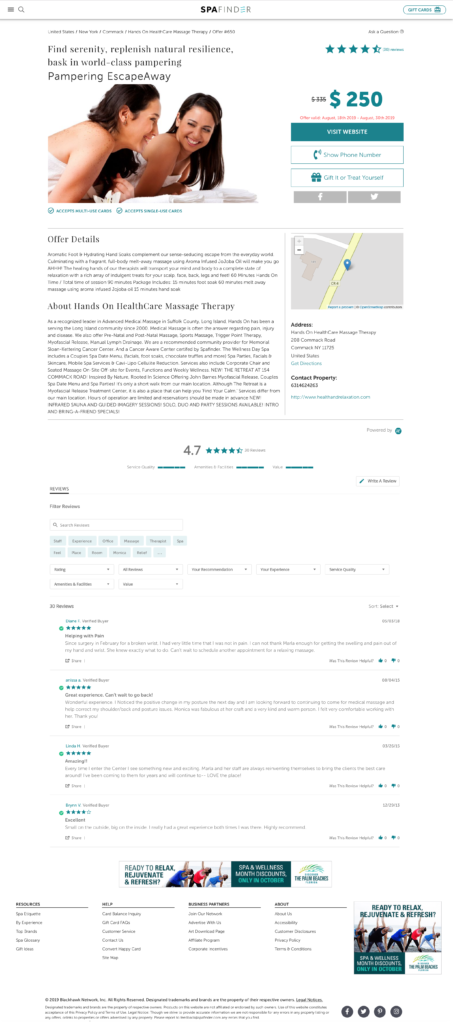 Spafinder gift card users are customers who are primed and ready to become regular visitors to your business.
They are coming on the recommendation of a friend with a gift in their hands. Your skilled practitioners and the excellent service they provide will build a loyal relationship with these consumers so that you can earn their business again and again.
Spafinder gift-card-holders are like viral-marketers walking into your business looking for a reason to sing its praises.
And now, with Spafinder's new "localized" site, offers and listings are targeted to reach local searchers in your area.
You'll find the new "localized" offers on the Spafinder homepage, on all of Spafinder's services pages (such as "Massage", "Facials" and "Manicures") and on our new city guides.
And there will be more to come soon.
So, to make an offer that A) is ready to be published and B) will bring you the customers you want, it's critical to follow a few simple "Dos" and "Dont's".
DOs:
Offer a meaningful discount: Package items, include products, make it fun, but above all, make it meaningful so that your offer stands out
Include a beautiful and attractive image: Use pictures of your facilities or of real people. Make sure the picture is at least 800 pixels wide and 600 pixels high to assure it looks fantastic everywhere we display it
Provide a clear description: Call out the benefits. Identify the features. Explain why it's special
Include any restrictions or limitations: If your offer is not available on certain days or during certain times, be sure to make mention of it
Update your listing: Be sure that your listing is also up-to-date with current information, lots of great pictures, all of your services and an attractive description of your business. This will help searchers make a good decision about choosing the provider that's right for them
Give Spafinder guests outstanding service & ask for a review

: Nothing works as well as word-of-mouth marketing. Give your Spafinder guests outstanding service; then ask them to review you on Spafinder. Spafinder users often search by rating, so having lots of positive comments and ratings is a sure-fire way of winning new business
DON'Ts:
Use graphics or have text over your image: Spafinder will reject images with text on them or graphics with print. These images get cut off and are unreadable in different screen sizes, so don't do it!
Include links, phone numbers or email addresses: All of this information is already on your page. We want to help you make effective offers, so having users interact with the links that are on the page is the best way to get performance data for your offer via the "Reports" link
Use pictures that don't belong to you: Be sure to use pictures that you have the right to use. A high-quality photo of your facilities or customers who give you permission to use their image is always good
Leave the same offer up forever: Good offers can run for 30 to 60 days, but longer than that is inadvisable. A sense of urgency is important to consumers, so update your offers every couple months
Overdo it With Fonts & Colors: Keep the text readable and clear. Use colors or other font treatments sparingly
After you've submitted your offer, it'll be approved within 48 hours (usually a lot faster).
Be sure to review your offers' performance on the Reports tab. Find out which got viewed the most and then match them up with how much interest your business received.
We've made creating offers easier than ever, so by all means, go in and make us an offer, but save yourself time and earn yourself a lifelong customer by following our simple rules.