Make-up Coverage that Protects
Published: Wednesday, June 16th 2010
in Beauty
---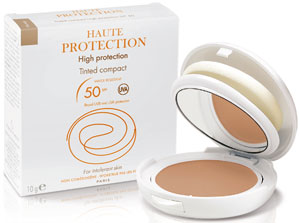 When it comes to covering imperfections while protecting skin from harmful UVA and UVB rays, Eau Thermale Avene's new "High-Protection Tinted Compact SPF 50" goes above and beyond most tinted sunscreens or SPF enhanced make-ups.

The compact makes application ultra convenient, as it fits easily into a purse or pocket and has a silky texture that is somehow lighter than both most cream cover-ups and most sunscreens.  But Eau Thermale Avene's new sun-combating-compact's most impressive features lay in its effectiveness and its other key benefits.

The cover-up is 100% mineral based, containing Titanium dioxide and Zinc oxide, which protect against a wide spectrum of UVA and UVB rays and Pre-tocopheryl or Vitamin E, an anti-oxidant that provides protection in a photostable form.  The ingredients' photostability is an important feature, as we learned from The Environmental Working Groups study that some sunscreens contain Vitamin A and oxybenzone, both which become photocarcinogens when exposed to sunlight.

Unlike much makeup containing SPF, Eau Thermale Avene's tinted compact received the EWG's blessing, scoring a 2, and putting it in the group of products that are recommended.   The compact is hypoallergenic and leaves a beautiful finish, all while protecting skin from the harshest elements!

Learn more about Eau Thermale Avene and their "New High-Protection Tinted Compact SPF 50" ($29).