Products We Love: Sulwhasoo Concentrated Ginseng Cream
Published: Wednesday, May 11th 2011
in Beauty
---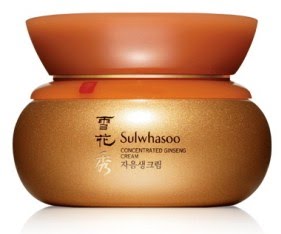 Korean beauty and skincare brand Sulwhasoo brings the traditional philosophy of "Sang-Seng," the idea that all things exist in relation to each other and that balance and harmony between all things will deliver the ultimate vitality, to beauty counters around the world. By applying this theory to our skin, Sulwhasoo has created a product line designed to maintain balance through fresh, indigenous and natural ingredients that replenish dry and aging skin.
Particularly nourishing is Sulwhasoo's Concentrated Ginseng Cream.  Formulated with an exclusive compound of Korean medicinal herbs called Jaeumdan, a mixture of peony, Solomon's seal, East Indian lotus, white lily and adhesive rehmannia, and three different types of ginseng, this nourishing cream works to hydrate and harmonize skin. Ingredients are brewed carefully to extract optimal potency to deliver premium results. The hyper-moisturizing cream is ideal for reducing the traces of aging, treating fine lines and wrinkles by boosting elasticity and combating dullness associated with dry skin. Its creamy consistency is so luxurious, and the light and natural fragrance makes it a perfect finishing product for your daily or nightly skincare routine.
Learn more about the Sulwhasoo Sang Seng Korean philosophy here.