Products We Love: TheraPearl-Pearl Technology Eye Mask
Published: Monday, May 2nd 2011
in Beauty
---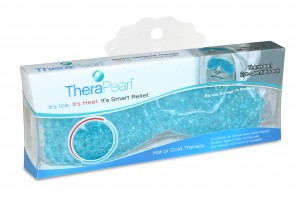 There are tons of creams and serums on the market that are designed to calm and de-puff swollen or irritated eyes.  But sometimes the best relief comes simply from a bit of cooling pressure used to soothe sore, swollen eyes or other parts of the body.
The recently released TheraPearl Pearl Technology line was designed to replace the bags of frozen peas that creator Dr. Carol Baltazar found her patients using to quell swelling, bruising and bleeding associated with injuries or the non-surgical cosmetic procedures that Dr. Baltazar performs.  Teaming with patient Gina Dubbé, Baltazar created a line of cold packs that can be frozen or heated to provide relief that is malleable to be used on different parts of the body for different areas of inflammation.
Either heated quickly in the microwave or used as a cooling compress, the eye mask has to be one of the most relaxing and rejuvenating items in the line.  All of the packs are filled with tiny pea shaped, non-toxic beads that will never freeze into a solid block as some eye-mask ice packs can. Perfect for soothing swollen, tired eyes during an at-home spa day or for applying after a spa visit or medical spa procedure, TheraPearl technology provides relief after just 20 minutes of icing or applying heat.
TheraPearl is now available at Duane Reade, or check them out online at www.therapearl.com.