Products We Love: iLike Rosehip Exfoliator
Published: Monday, April 18th 2011
in Beauty
---
As we transition into the months of spring and summer, one aspect of your skincare routine becomes more important than ever: exfoliation.
Changes in weather can have adverse effects on skin, and when the weather warms up and the sun comes out you may find yourself making slight changes  to your skincare routine, like switching from a heavier moisturizer to a lighter one and becoming more diligent about applying sunscreen. It is during transitional phases like this when exfoliating away the dead skin that builds up during dry winter months becomes particularly important.  iLike Organic Skin Care creates gentle, natural products like its iLike Rosehip Exfoliator. Growing and harvesting ingredients in the Carpathian region of Hungary, iLike uses herbal pulps instead of just the extracts from the beneficial herbs and berries that most natural product lines are based around. Using these herbal pulps instead of extracts, which are then mixed with alcohol, allows your skin to absorb even more of the important vitamins and nutrients provided by the ingredients.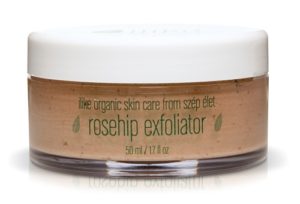 iLike Rosehip Exfoliator provides the skin with the value of sumptuous natural ingredients like rose, which nourishes the skin to increase elasticity, and lactic acid and corn meal, which work together gently to remove dead skin cells, leaving skin smooth and glowing.  Keeping skin exfoliated will unclog pores and allow your moisturizer and sunscreen to absorb more readily, which will help ensure that your  skin tans more evenly underneath that sunscreen.