The Ice Cream Pedicure and Cool Summer Treatments
Published: Friday, July 30th 2010
in Beauty
---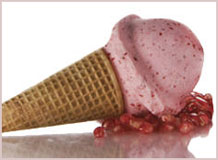 How do you cool off in the summer months?!  I love to indulge in several scoops of ice cream a week to cope with the sweaty summer days.  But if you are looking for a less caloric indulgence to beat the heat, then we have the solution for you!  The Ice Cream Pedicure!

Me! Bath has created a fresh way to keep your toes cool.  They have created a line of products that can be used alone at home or with a group of gals for a fun "ice cream social!"

The pedicure starts with a scoop of "bath ice cream" or luxurious bath bombs, a flavored, fizzing ball for soaking your feet.  Flavors range from "Birthday Cake" and "Chocolate Covered Strawberry" to "Café con Leche" and "Coconut Cove."

Next use the "Ice Cream Sandwich Pumice Stone" to exfoliate and then smooth feet to give them a clean fresh look.  Or try the "Shower Sherbet Sugar Scrub" to smooth away rough spots in an extra sweet way.

Follow with "Body Icing Lotion," a perfect topping, before applying your favorite polish.  May we suggest a bright pink, blue or orange?  Those bright hues remind me of rainbow colored sprinkles!

So tell us, are Ice Cream Pedicures super sweet or sort of silly?