3 Sweet & Simple Brunch Recipes for Easter & Mom!
---
Just in time for Easter, here are three simple and traditional brunch recipes from Ste. Anne's Spa in Grafton, Ontario, to delight in before you take off for your egg hunt. And, since Mother's Day is just around the corner, make what you didn't make this weekend for Mother's Day! In honor of Earth Day, and just because seasonal and local is always fresher, supplement these sweet basic breakfasts with a seasonal salad, seasonal fruit, and a detox smoothie – you'll be energized and ready to go for a day full of celebration.
These recipes were selected from the most popular menus featured at Ste. Anne's Spa over the years. Executive Chef Christopher Ennew also draws on local and seasonal ingredients.
"With each recipe, Chef Ennew reminds us of the importance of cooking and eating mindfully, and of thinking not only of our health, but of the health of our communities and our environment," Jim Corcoran, owner for Ste. Anne's Spa, wrote in the forward to the spa's cookbook.
MULTIGRAIN PANCAKES (Serves 12)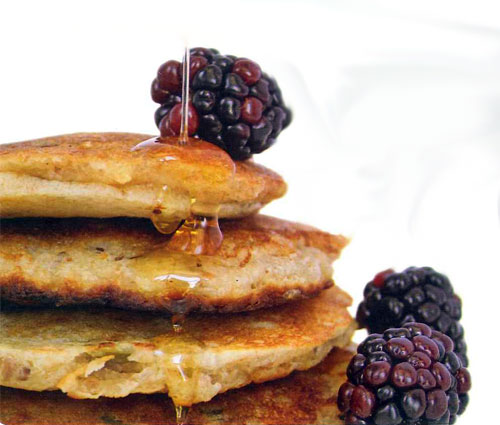 Ingredients:
2 cups multigrain flour
1 tsp salt
3 tsp baking powder
2 tsp sugar
2 eggs, room temperature
1½ cups buttermilk
⅓ cup grapeseed oil (reserve 1 tbsp for pan)
Instructions:
1. Sift dry ingredients together in a bowl. In another bowl, beat eggs; add milk to eggs and mix well.
2. Combine egg mixture with dry ingredients and mix until moistened.
3. Add oil and stir until the mixture is spongy and uniform.
4. Heat pan over medium heat and add 1 tbsp grapeseed oil.
5. Spoon small amounts of the mixture into the pan and let each pancake cook until the top begins to bubble.
6. Cook for 2 to 3 minutes more after bubbles form, then flip and cook for 2 more minutes.
7. Serve with fresh seasonal fruit and maple syrup.
FRENCH TOAST (Serves 4)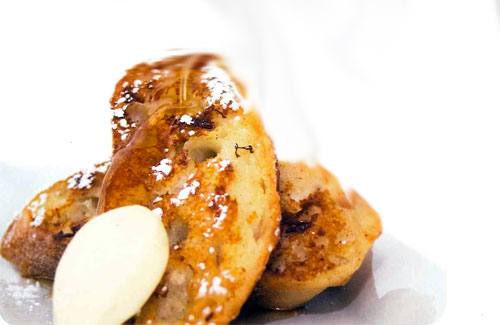 Ingredients:
2 medium eggs
1 cup 2% or lowfat milk
¼ tsp vanilla
1 tsp honey
Ground cinnamon to taste
Ground cardamom to taste
1 baguette, thinly sliced on an angle
1 tsp vegetable oil
1 tsp confectioner's sugar
Pure maple syrup to taste
Instructions:
1. In a bowl, mix eggs, milk, vanilla, honey, cinnamon, and cardamom.
2. Place baguette slices in the mix and let sit for 3 minutes. Turn slices over and repeat for another 3 minutes.
3. Heat a pan over medium-high heat and add vegetable oil.
4. Place the dipped baguette slices into the pan and cook both sides for approximately 2 minutes each.
5. Sprinkle with confectioner's sugar and serve with maple syrup.
Ingredients:
For the filling:
1 tbsp butter
4 apples, peeled, cored, and sliced
2 tbsp brown sugar
2 tbsp raisins, optional
2 tbsp walnuts, optional
Pinch of ground cinnamon
Pinch of ground nutmeg
For the crepes:
1 cup milk
2 eggs
½ cup flour
Pinch of ground cinnamon
Pinch of ground nutmeg
1 tsp vegetable oil
3 apples
1 tsp confectioner's sugar
Instructions:
1. Begin the crepes: Mix milk, eggs, flour, and spices; set aside for 20 minutes.
2. Meanwhile, begin preparing the filling; heat butter in a pan over medium-high heat.
3. Add apples, sugar, raisins, walnuts, and spices; simmer and stir occasionally to keep tender. Set aside.
4. Return to the crepes, and heat vegetable oil in a pan over medium heat.
5. With a 1-oz. ladle, pour batter into center of the pan, swirling to create a thick layer.
6. Cook until top is dry then flip the crepe, cooking for another 15 seconds. Slide crepe onto a tray
7. Place filling in the center of each crepe; fold and sprinkle with confectioner's sugar.
8. Garnish crepes with thinly sliced apple.
Most recent from Recipes