A Vegan, Vegetarian, or Gluten-Free Thanksgiving? We Have Recipes, Here.
Published: Tuesday, November 17th 2015
in Recipes
---
Rule number-one of pulling off a good holiday dinner party: Playing the role of the perfect hostess, including at your upcoming Thanksgiving gathering, means catering to your guests' dietary needs, no matter how difficult. To make your meal a bit easier, we're serving vegan, vegetarian, and gluten-free Thanksgiving recipes from top chefs and more. Enjoy!
Roasted Parsnip and Salsify Soup from Sanctuary Camelback Mountain Resort and Spa (Gluten-Free)
1 lb fresh parsnips
2 lb fresh salsify
1 whole white onion
2 shallots
4 cloves garlic
1 sprig thyme
1 stalk celery
1 bay leaf
4 oz butter
2 granny smith apples
Roast all ingredients at 320° until vegetables are tender
2 qt gluten-free chicken broth (fish or lobster broth works as well)
8 oz heavy cream
4 oz mascarpone cheese
2 oz honey
Place all ingredients in a large stockpot.
Add broth and reduce for 10 minutes.
Add heavy cream and reduce for 5 minutes.
Blend soup.
Add mascarpone cheese, honey, and salt & pepper.
Autumn Risotto with Butternut Squash, Sage, and Pepitas from HelloFresh (Vegetarian)
¾ cup Arborio risotto rice
¼ cup parmesan cheese
1 shallot
2 garlic cloves
2 vegetable stock concentrates
¼ oz sage
1 oz pepitas
8 oz butternut squash, cubed
1 tbsp butter
1 tbsp plus 2 tsp olive oil
Preheat oven to 400 degrees. In a medium pot, bring the stock concentrates and 2 ½ cups water to a simmer over low heat. Cut the butternut squash into ½-inch cubes if they aren't already. Mince or grate the garlic. Halve, peel, and finely chop the shallot.
Toss the butternut squash on a baking sheet with 2 teaspoons oil and a pinch of salt and pepper. Place in the oven for 25-30 minutes, tossing halfway through cooking, until soft and golden brown.
Heat 1 tbsp oil in a large pan over medium heat. Add the garlic and shallot and cook, tossing, 3-4 minutes, until very soft. Season with salt and pepper. Add the rice to the pan and cook, tossing, for 1-2 minutes, until rice looks translucent. Reduce heat to medium-low.
Make the risotto: in ¼ cup increments, add the warm stock to the pan and stir frequently, until the liquid absorbed by the rice. Continue this process until the rice is al dente and a loose, creamy sauce has formed, about 25-30 minutes.
Finely chop the sage, reserving a few small leaves for garnish.
When the risotto is al dente, stir the butternut squash, chopped sage, Parmesan, and 1 tbsp butter into the pan. Season generously with salt and pepper.
Divide the risotto between plates and garnish with the pepitas and reserved sage leaves. 
Cranberry-Walnut Martini from Sanctuary Camelback Mountain Resort and Spa (Vegan)
(Makes 1 drink)
2 ½ oz. vodka, preferably Ketel One
2 oz. walnut liqueur, preferably Nocello
3 fresh cranberries
1 spring rosemary
1 walnut, toasted
Combine the vodka and walnut liqueur in a cocktail shaker with ice. Shake well and strain into a chilled martini glass.
Thread the cranberries onto the rosemary sprig and place in the glass. Garnish with the walnut.
Pumpkin Bread from The Lodge at Woodloch (Gluten-Free)
1 ¾ cup gf oat flour
1 c dark brown sugar
1 tsp baking soda
½ tsp baking powder
½ tsp salt
½ tsp nutmeg
½ tsp cinnamon
¼ tsp cloves
1 cup pumpkin purée
½ cup oil
3 tbsp maple syrup
3 tbsp water
1 cup shredded zuchinni
1 cup shredded carrots
Preheat oven to 350°F. Grease and flour a loaf pan.
In a large bowl, mix together flours, sugar, soda, baking powder, salt, and spices.
In a small bowl, whisk together pumpkin, oil, syrup, and water.
Add wet mixture to dry; combine until just moistened, then add the carrots and zuchinni.
Pour into prepared pan and bake 45-50 minutes or until top is browned and a toothpick inserted in the center comes out clean.
Let cool 20 minutes; use a butter knife to gently loosen bread from sides of pan, then invert onto a cooling rack.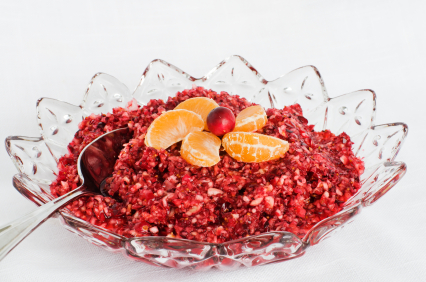 Sugar-Free Cranberry Sauce from Green Mountain at Fox Run
(serves 8)
1 cup fresh cranberries
1 cup quartered strawberries
1/2 cup orange juice
2 tbsp diced celery
2 tbsp chopped walnuts
1 large pear, diced
Combine cranberries, strawberries, and juice in a small sauce pan and warm over medium heat. 
Bring to a simmer, uncovered, stirring occasionally, cooking about 15 minutes or until cranberries burst. 
Remove from heat. 
Stir in remaining ingredients, transfer to glass container, cover and refrigerate overnight.
Most recent from Recipes