All the Trimmings: How Top Spa Chefs Do The Holidays
Published: Saturday, November 5th 2016
in Recipes
---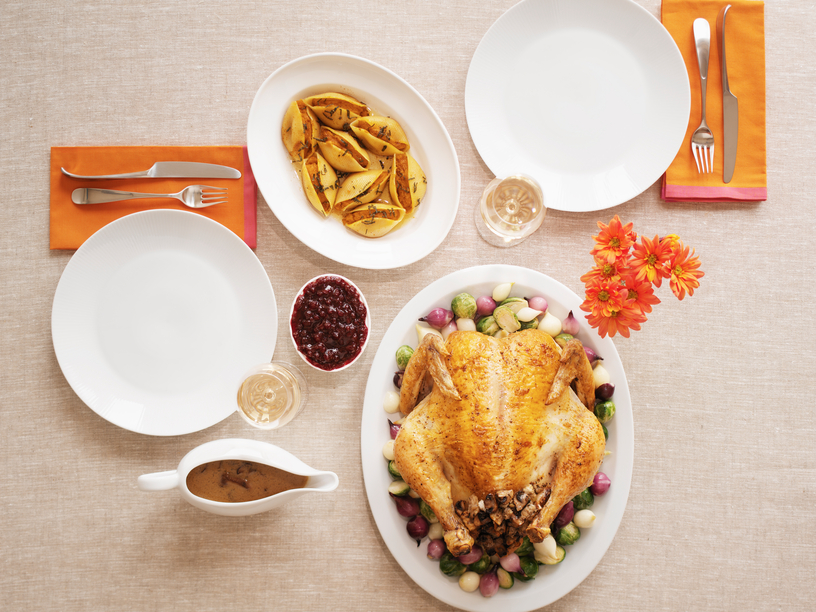 Spa chefs create them, we share them, you cook them: These seriously tasty Thanksgiving recipes are perfect for the holiday season! Here's the dish on how spa chefs do the holidays.
Gluten-Free Sweet Potato Fondue from Sanctuary Camelback Mountain Resort and Spa
1 lb sweet potatoes
2 whole shallots, cleaned
1 clove garlic, cleaned
12 oz milk
4 oz heavy cream
½ oz ginger
1 tbsp honey
2 tbsp mascarpone
Cut sweet potatoes into small pieces.
Put pieces of sweet potato in a pot with all other ingredients except for honey and mascarpone. Bring ingredients to a boil.
Turn heat down to simmer ingredients for about 10-12 minutes. Drain.
Put ingredients in a robo-coupe and puree until smooth. Let stand for a couple of minutes.
Season with honey, mascarpone, salt and pepper.
 Yam, Arugula & Cranberry Toss from Green Mountain at Fox Run
(Makes 2-3 servings)
2 cups diced yams, winter squash or sweet potatoes
½ medium red onion, diced
1 tbsp olive oil
½ tsp salt or herb salt
2 tbsp chopped pecans
¼ cup dried cranberries
2 cups arugula
Heat oven to 375° F.
Peel yams and dice into ½- inch cubes; toss yams and onions with olive oil.
Spread on shallow baking dish or pizza pan; sprinkle with salt and bake for 30-35 minutes.
Five minutes before removing yams from the oven, spread chopped pecans on the edge of the pan and continue to bake.
Remove from oven and place mixture into a serving dish.
Add dried cranberries and arugula; toss.
Serve warm.
Gilfeather Turnip Soup from The Lodge at Woodloch Executive Chef Josh Tomson
2 lbs gilfeather turnip, peeled and diced
½ head of cauliflower, diced
1 onion, diced
8 cloves roasted garlic
2 32oz boxes rice milk
salt tt
canola oil
Saute onion in canola oil until tender and transulcent. Add roasted garlic, cauliflower and turnip and saute for 1 minute. Add rice milk and bring to a simmer. Simmer for approximately 20-25 minutes or until all the ingredients are tender.
Ladle soup into a blender and in batches, process until smooth.   Make sure to not fill the blender more than 2/3 full with the hot liquid. Season to taste with salt. Garnish with some fresh cracked black pepper and extra virgin olive oil.
Autumn Spiced Pumpkin Cheesecake w/Candied Pumpkin Seeds, Candied Pecans & Sour Cream Ice Cream from Montage Laguna Beach Chef Lee Smith
Candied Pumpkin Seeds
180 g simple syrup
440 g pumpkin seeds
2 g sea salt
Toast the seeds.
Bring the syrup to a boil.
Add the seeds and sea salt and mix well.
Return the seeds to a sheet pan and finish in the oven.
When they are removed from the oven break then apart and cool.
Candied Pecans
180 g tpt syrup
440 g pecan nuts in pieces
2 g sea salt
Toast the nuts.
Bring the syrup to a boil.
Add the nuts and sea salt and mix well.
Return the nuts to a sheet pan and finish in the oven.
When they are removed from the oven break then apart and cool.
Sour Cream Ice Cream
1200 g sour cream
500 g Greek yogurt
500 g sugar
2 lime zest
Whisk all together for 10 minutes. Freeze.
Pumpkin Cheesecake
4500 g cream cheese
1250 g sugar
280 g flour
30 whole eggs
60 g cream
4 lemon zest
4 vanilla pods
1600 g puree
50 g nutmeg
50 g cinnamon
On a planetary mixer beat the cream cheese and sugar until smooth, scrape down the bowl.
Sieve the flour and spices and add to the cream cheese mixture.
Add all remaining ingredients and beat smooth.
Pour over the base and bake at 300f until just firm.
When cooked and cool cut into small cubes.
Cheesecake Base
800 g graham cracker crumbs
250 g melted butter
225 g chopped pecan nuts
Combine all in a mixing bowl and press into a cheesecake pan.
Firmly press down.
This is one of our favorite articles. It was originally published on December 25, 2013.
Most recent from Recipes