Catch the Spirit: Healthier Holiday Cocktails
---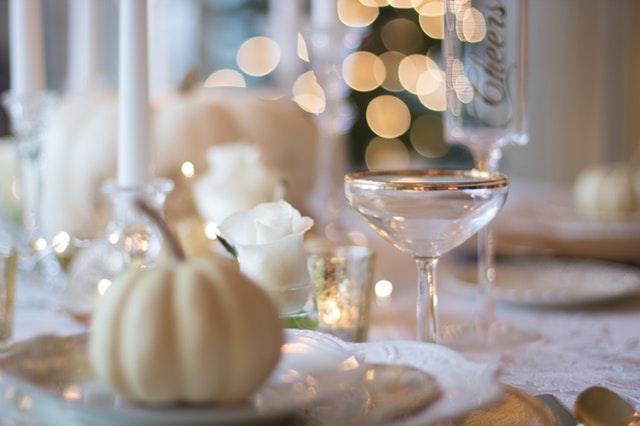 'Tis the soon-to-be-season of indulgence, with countless ways to treat yourself: scheduling a spa treatment after a day of hectic holiday shopping, snacking on a cookie or two while doing your Christmas baking or warming up with a sip of a spirited cocktail when winter temperatures drop. But a gentle reminder—extravagances in excess, while pleasurable for the mind, aren't always the most beneficial for the body.
So how to toast to this holiday season (in a healthier way)? Here's a roundup of some of our favorite holiday cocktail blends that are so good (and less guilty!), we had to share again.
Ingredients:
2 ½ oz vodka, preferably Ketel One
2 oz walnut liqueur, preferably Nocello
3 fresh cranberries
1 spring rosemary
1 walnut, toasted
Instructions:
Combine the vodka and walnut liqueur in a cocktail shaker with ice.
Shake well and strain into a chilled martini glass.
Thread the cranberries onto the rosemary sprig and place in the glass. Garnish with the walnut.
(Is eggnog more your thing? Try this version of a vegan eggnog.)
Ingredients:
1 gallon apple cider
1 orange sliced
2 cinnamon sticks
1 lemon, sliced
Sleigh Bell blend (mix 4 oz. Maker's 46 Bourbon, 3 oz. Laird's Applejack Brandy, 2 oz. Tuaca (Tuscan Orange Liqueur) and 1 oz. Canton Ginger Liqueur. Pour into flip-top glass bottle for storage.)
Instructions:
Combine all ingredients except for the Sleigh Bell blend in a medium to large sauce pan. Bring all ingredients to a simmer. Keep it hot on the stove for your guests.
To serve, place 3 tbsp of the Sleigh Bell blend into a warmed 6-oz. coffee cup. Ladle hot cider into cup, garnish with a quarter slice of orange studded with two cloves and enjoy!
Miraval's Mindful Martini, courtesy of Miraval Arizona Resort & Spa
Makes 2 cocktails.
Ingredients:
3 oz. premium vodka
2 oz. triple sec
1 oz. pomegranate juice
½ oz. acai juice
2 fresh blackberries for garnish
Instructions:
Combine the ingredients in a cocktail shaker filled with ice and shake vigorously.
Strain into two tall martini glasses, garnish with a blackberry and serve immediately.
And if you're truly watching your waistline, stick to hard liquor (tequila, vodka, gin, rum, whiskey), as most contain no carbs or sugar. Be cautious, however, as you'll still intake calories as you imbibe. "These drinks range in calories from 65 calories from a 1-ounce shot of 80-proof vodka to 83 calories for a 1-ounce shot of 100-proof vodka, rum, gin or whiskey, to 100 calories for a 1.5-ounce shot of tequila"…and an extra 100 calories in hard alcohol daily can cause you to gain nearly a pound a month.[1]
So our suggestion? Splurge, but be self-aware: everything in moderation, even at the holidays.
Cheers to a healthier, happier season—let the festivities begin!
Spafinder Gift Cards. Perfect for the holidays.
[1] Tremblay, MSC, Sylvie. (2018, April 19). "Why Types of Hard Alcohol Have No Sugars or Carbs?" https://www.livestrong.com/article/32276-types-hard-alcohol-sugars-carbs/.