Cauliflower Pizza: The Healthy Alternative to a Quick Cheat Meal
---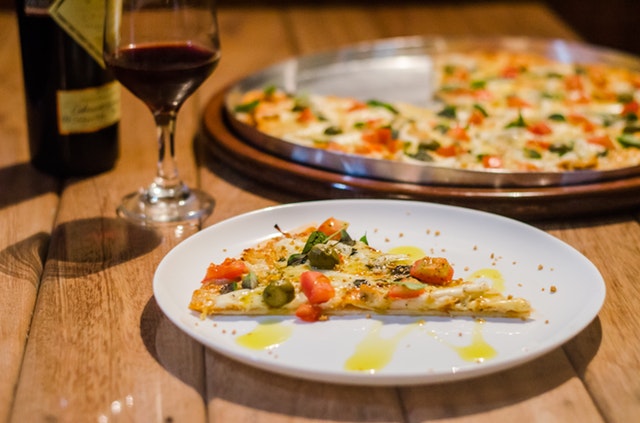 Who knew pizza and cauliflower were a marriage made in heaven? Savvy foodies have discovered that pizza made with a cauliflower crust is a delicious (and healthier) alternative to traditional carb-and-gluten-laded pizza dough.  It's easy to make–just pulse cauliflower in a food processor, add ingredients in the recipe below and make it into dough. It's also packed with nutrients and each slice has only 169.5 calories. And lucky you, Trader Joe's, along with other stores, sells frozen cauliflower pizza crust options—one organic and one gluten-free.
Why Cauliflower Wears the Superfood Crown

Cauliflower is an extremely healthy vegetable chock full of nutrients and unique plant compounds that may reduce the risk of heart disease and cancer. Plus it's low in calories –just 25 in one cup–and easy to include in your diet. (Thankfully, the days of only eating a serving of steamed cauliflower are long gone!)
In fact, cauliflower contains almost every vitamin and mineral that your body needs from vitamins C, K and B6 to folate, potassium, and manganese. It's also a good source of fiber and antioxidants that protect your cells from harmful free radicals and inflammation. Moreover, cauliflower is one of the few foods that contain choline, which is said to prevent liver and heart disease and neurological disorders like dementia and Alzheimer's. In addition, you can cut down on carbs and replace grains in your diet with tasty foods like cauliflower rice, cauliflower tortillas and–ahem–cauliflower pizza.[1]
DIY Cauliflower Pizza Crust Recipe

If you have a food processor, making a cauliflower pizza crust is easy breezy. Check out this recipe from food gurus at DamnDelicous.net
Ingredients:
1 head cauliflower, chopped
2 large eggs
1/2 cup shredded mozzarella cheese
2 tablespoons freshly grated Parmesan
1 tablespoon Italian seasoning
Kosher salt and freshly ground black pepper, to taste
Directions:
Preheat oven to 425 degrees F. Line a baking sheet with parchment paper or a silicone baking mat; set aside.
Add cauliflower to the bowl of a food processor and pulse until finely ground, yielding about 2-3 cups.
Cover loosely and microwave in a microwave-safe bowl for 4-5 minutes, or until softened; let cool.
Using a clean dishtowel or cheesecloth, drain cauliflower completely, removing as much water as possible.
Transfer cauliflower to a large bowl. Stir in eggs, mozzarella, Parmesan and Italian seasoning; season with salt and pepper, to taste.
Spread cauliflower mixture into a 15- by 10-inch rectangle onto the prepared baking sheet. Spray lightly with nonstick spray and bake for 12-15 minutes, or until golden.
Add your favorite pizza sauce and veggie toppings and bake until the cheese has melted, about 3-5 minutes. Add fresh basil or red pepper just before serving.
Find nutrition tips and healthy, delicious recipes at Spafinder.com.
Working too hard? Treat yourself to a spa day. You deserve it!
[1] Healthline, "The Top 8 Health Benefits of Cauliflower," Brianna Elliott, RD, April 2017