Cinco de Mayo Low-to-No-Fat Recipes: Fruity Sangria, Green Pea Guacamole & Pico de Gallo!
---
To celebrate Cinco de Mayo at home, begin the festivities with a spa cocktail and appetizers. We think these three healthy recipes from Hilton Head Health – voted "Top Ten Best for Weight Loss" resort for the past four consecutive years in SpaFinder's annual Readers' Choice Awards – are perfect for the occasion.
We love the idea of incorporating green peas in to a guacamole, and if you want to opt for fresh peas, it's perfect timing since green peas are in season. And, the healthy getaway's recipe for pico de gallo is beyond simple, allowing for the flavors of each ingredient to really come through. Serve these up with some tortilla chips or pita chips, or use them on top of your Cinco de Mayo meal!
H3 FRUITY SANGRIA (Serves 8 )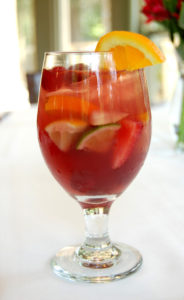 Ingredients:
2 cups grape juice, no sugar added
½ cup cranberry juice, no sugar added
1 cup orange juice, no sugar added
1 cup Splenda
1 orange, sliced
1 lemon, sliced
1 lime, sliced
1 pint fresh raspberries, or strawberries
1 gallon water
4 cups ice
Orange, lemon, and lime slices for garnish (optional)
Raspberries, strawberries, or grapes for garnish (optional)
Instructions:
1.      Place all ingredients in a large pitcher, and stir until well incorporated.
2.      Cool the mixture for 1 hour in the refrigerator. Serve in individual glasses with ice and fresh fruit for garnish.  Enjoy!
Nutritional information per 8 oz. serving: 38 calories
GREEN PEA GUACAMOLE (Makes 4 ⅜ cups)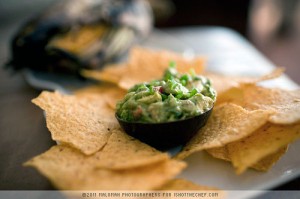 Ingredients:
4 cups thawed frozen peas
5 ripe avocados, peeled, pitted and mashed with fork
1 tsp salt
¼ cup lime juice
2 cups seeded finely diced Roma tomatoes
1 bunch finely cut green onions
2 tbsp finely chopped garlic, sautéed lightly
1/3 cup finely chopped cilantro
Instructions:
1.      Place peas and lime juice in a food processor or blender and chop until very smooth, about 2-3 minutes.
2.      Transfer blended peas to a bowl, and mix in the other ingredients.
3.      Serve immediately, or cover with plastic wrap touching the surface of the guacamole to prevent browning.
Nutritional info per 1 tbsp serving: 31 calories, 2 g fat
PICO DE GALLO (Makes 1 cup)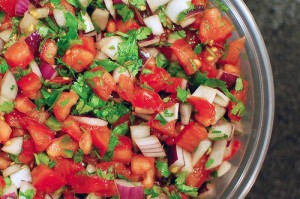 Ingredients:
1 cup tomatoes, seeded and diced
¼ cup diced white onion
2 tbsp minced fresh cilantro
1 tbsp fresh lime juice
1 jalapeno, seeded and diced
Salt to taste
Instructions:
1.      Toss all ingredients together in a bowl.
2.      Chill until ready to serve.
Nutritional information per 2 tbsp serving: 6.5 calories, 0 g fat
Most recent from Recipes