Comfort Foods Made Healthy: 12 Recipes to Satisfy Winter Cravings
Published: Monday, February 22nd 2016
in Recipes
---
By Rachel Chemerynski
During the cold winter months our bodies tend to crave hot, savory, often fat-laden, unhealthy meals, also known as comfort foods. From extra-cheesy mac and cheese to mom's spaghetti and meatballs, these cravings can be hard to resist. Well, what if we told you that you don't have to fight these urges after all; that you can in fact indulge in your favorite foods without the extra pounds?
To celebrate American Heart Month, we've compiled a guide (with recipes!) to help you cope with these crazy comfort food hankerings, and make heart-healthy choices to boot!
Our bodies are much smarter than we think; they tell us when we're hungry, when we need to use the restroom and when we're feeling a sickness coming on. Therefore, when you recognize a craving, it's important to listen to the message and ask yourself, "What is my body trying to tell me?"  Ignoring these cravings is a disaster in the making, and can cause deprivation, dissatisfaction, or binges later on (which leads to guilt).
Understanding Your Cravings
Throughout this time of season, your body is likely asking for comfort foods, and let me tell you – they aren't called comfort foods for a reason!
For one, during the winter season we tend to need warming, heavier dishes to protect our bodies from the harsh temperatures outside. Therefore, we fill up on savory foods, often leading to unhealthy choices. For example, we may go for high-calorie, restaurant-style Fettuccini Alfredo, when really all our body may be asking for is a hot bowl of soup.
In addition, comfort foods typically bring us back to childhood, or a time where we felt safe and comfortable. This is especially true during the holiday season, as our emotions and memories are connected with the foods we consume, in turn heightening the cravings.
Skinnied Up, Heart-Healthy Comfort Foods
As we already established, ignoring these cravings is not the answer; instead we must learn to manage them! One of the best ways to do so is by preparing healthier alternatives of your favorite comfort foods. Read below for some simple substitutions you can make, depending on your particular craving.
I'm Craving Beef Stew or Heavy Soups!
Go for: Turkey Chili or Carrot Ginger Soup
Enjoy a healthy, leaner take on the classic beef chili recipe, courtesy of Celebrity Fitness and Wellness Guru David Kirsch. This turkey-based chili recipe is a great choice for your winter gatherings or even a snowed in winter's eve with your sweetie! Plus, the lean turkey is an excellent heart-healthy substitute for fatty red meat.
Follow a vegetarian diet? Try this vegetarian chili recipe from Mii amo or warm your soul with this carrot ginger soup recipe from Canyon Ranch, which blends sweet potatoes, carrots, maple syrup and ginger for an ultra-soothing delight. You'll save loads of calories and fat that tends to come with heavier, cream-based soups while packing on extra fiber, which can help reduce cholesterol while protecting your heart.
I'm Craving Spaghetti and Meatballs!
Go for: Spaghetti Squash with Turkey Meatballs
Mama Mia! We're all suckers for the classic Italian dish, but wouldn't you rather save some room for dessert? Swap out white pasta for spaghetti squash, literally "squashing" hundreds of calories while also giving the dish a nutritional veggie-boost. Your waistline (and your heart) will be thanking you later!
To take it one step further, make your own turkey or chicken meatballs, both of which are leaner than beef. For a slight variation on spaghetti with meatballs, try Cal-a-Vie's recipe for Rigatoni alla Bolognese.
We also love the recipe for gluten-free chicken meatballs found in The Clean Plates Cookbook.
I'm Craving Fried Chicken!
Go for: Baked Chicken Tenders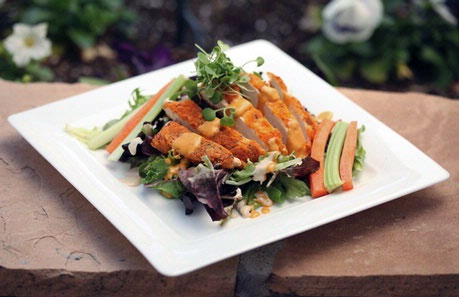 Miraval Resort and Spa's Crispy Honey Chicken Tenders are baked instead of fried, and use crushed cornflakes in place of processed breadcrumbs. With just four ingredients, this recipe is simple, clean and guilt-free! Even better, you can skip the artery-clogging oils and butter altogether by using their magic, calorie-free alternative: water.
Or, craving the saucy flavors of buffalo chicken? Try Canyon Ranch's buffalo chicken salad recipe!
I'm Craving Mashed Potatoes!
Go for: Stuffed Red Bliss Potatoes
Dreaming about piles of mashed potatoes with gravy? Satisfy your taste buds for a fraction of the calories with these Stuffed Red Bliss Potatoes from Pritikin Longevity Center & Spa. With lump crab meat, fat-free mozzarella cheese and fresh herbs, you won't be missing that extra butter one bit (and neither will your heart)!
If you're still itching for some good, ol' fashioned mashed potatoes, check out these 3 unique spa-inspired alternatives.
I'm Craving Cheesy Fondues and Casseroles!
Go for: Creamy Cauliflower Soup
You'd think this Creamy Cauliflower Soup with Caramelized Cauliflower from Golden Door Spa had a pound of cheese in it with its decadent, sinfully delicious flavor. In reality, it calls for just 2 oz. of Gruyère. What's the catch? The whopping 2 lbs. of cauliflower, skim milk and chicken stock make up for the lack of cheese, while packing in loads of nutrients. In fact, the cauliflower alone is a great source of vitamin C and K, folate, fiber, and omega-3 fatty acids, which can reduce inflammation in the body.
And for all of those fellow mac and cheese lovers out there, try swapping out white pasta in place of fiber-packed quinoa, which can help lower cholesterol levels while also giving you a natural protein boost. Amp up the veggies by adding mushrooms, peas, broccoli, or spinach for even more heart-healthy benefits!
Now it's your turn! What comfort foods do you crave? What are some ways you could skinny up your favorites?
You might also like:
6 Ways to Stay or Become Heart Healthy
Cardio Workouts: Why It's Important to Keep Your Heart Rate Up
Mirbeau Recipe: Salmon en Papillote with Jasmine Rice Timbale
The Skinny on Eating with the Seasons + 5 Foods to Help Your Body Thrive this Winter
5 Firming Products That Really Work
Rachel Chemerynski is a certified health coach and freelance writer living in Boston, Massachusetts. She is the founder of Healthy Chicks, a wellness community dedicated to inspiring twenty-something women to live happier, healthier, more satisfying lives.
Most recent from Recipes