Rack of Lamb with Cinnamon-Peppercorn Sauce Recipe
Published: Sunday, September 27th 2015
in Recipes
---
by Vanessa Voltolina
Whether it's adding allspice to your apple cider mulling mix, or cloves to your chicken dish, spices can help us celebrate the best of a season. This fall, amp up your cooking by including flavors indicative of the season – such as cinnamon, ginger, garlic, and other favorites that remind you of cool weather and holidays. Here, we feature three of our favorites, explain their healthy benefits, and provide some recipes to add to your "to-cook" list over the coming months. Bon appetite!
Ginger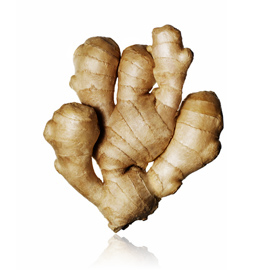 Health Benefits: Ginger's oils and phenol compounds are thought to contain soothing powers, helping relieve motion sickness, nausea due to pregnancy, and arthritis inflammation.
Tip: The aroma, texture, and flavor varies depending upon when ginger is harvested. "Young" ginger (harvested after six months) is tender and sweet; older, mature ginger (harvested 10-12 months) is more fibrous and spicy.
Try this: Cranberry-Orange Chutneyfrom Miraval Resorts. This chutney is delicious hot or cold and also goes great with breakfast scones, pancakes, chicken, pork, and wild game. The recipe makes about 2 cups.
1½ cups fresh orange juice
1 cup dried cranberries
½ cup orange segments
½ cup pomegranate juice, unsweetened
4½ teaspoons freshly grated orange zest
½ teaspoon freshly grated lime zest
½ teaspoon fresh lime juice
3 cinnamon sticks
1. Combine all the ingredients in a heavy medium saucepan, bring to a simmer over medium heat.
2. Cook the sauce, stirring occasionally, until the cranberries are plump and the liquid begins to thicken, about 10 minutes.
3. Remove the pan form the heat and let rest until ready to serve.
Cinnamon
Health Benefits: Can lower blood sugar, triglycerides, LDL, and total cholesterol in people with type 2 diabetes.
Tip: Add one-fourth to one-half teaspoon of cinnamon into your daily cups of coffee for a quick, flavorful hit.
Try this: Rack of Lamb with Cinnamon-Peppercorn Sauce from Miraval Resorts, which makes 4 servings.
4 size-ounce New Zealand lamp racks (4 to 5 bones each), trimmed and frenched
¼ teaspoon kosher salt
1/8 teaspoon freshly ground black pepper
2 teaspoons canola oil
1 recipe Cinnamon-Peppercorn Sauce (recipe follows)
1. Preheat the oven to 375⁰F.
2. Lightly season the lamb on all sides with the salt and pepper.
3. Heat a large skillet or sauté pan over high heat. Add the oil and when hot, add the lamb in and cook, turning until well browned, 3 to 4 minutes on meaty side, then 1 minute on the bony side.
4. Transfer the pan into your preheated oven and roast to desired temperature, 12 to 15 minutes for medium rare.
5. Place the racks on a large cutting board and let rest for 1 to 2 minutes.
6. Use a knife to cut the racks into two 2-bone chops each and divide among four plates.
7. Spoon the sauce over the meat and arrange two ravioli on each plate. Serve immediately.
Calories: 455 Total fat: 22g | Carbohydrate: 23g | Dietary Fiber: 9g | Protein: 39g
Cinnamon-Peppercorn Sauce
¼ cup Miraval Oil Blend or canola oil
½ cup thinly sliced yellow onion
¼ cup cleaned chopped Portobellos
½ teaspoon whole black peppercorns
1 teaspoon fresh thyme
½ bay leaf
¼ cup brandy
1 cup good quality dry red wine, such as Cabernet Sauvignon or Merlot
1 cinnamon stick
1½ cups Red Wine Demi-Glace
1. Heat a medium saucepot over high heat. Add the oil; when hot, add the onions, mushrooms, peppercorns, thyme, and bay leaf; cook, stirring until the onions and mushrooms are soft, 3 minutes.
2. Remove the pot from the heat, add the brandy, and very carefully ignite with a match. Once the flame subsides, return the pot to medium-high heat.
3. Add the wine and cinnamon, and bring to a simmer.
4. Cook until the liquid is reduced by half, about 5 minutes, then add the demi-glace and reduce for 20 minutes at medium heat.
5. The sauce will start to thicken, and that's when you're close to being done. Strain sauce through a fine mesh strainer and reserve for plating.
Garlic
Health Benefits: Studies suggest that one or two cloves weekly provide cancer-protective benefits.
Tip: Let garlic sit for 10-15 minutes after chopping and before cooking so the active form of the protective phytochemicals develop.
Try this: Roasted Garlic and Basil Mashed Potatoes and Roasted Garlic recipe from Miraval.
Roasted Garlic and Basil Mashed Potatoes
"The power of garlic is a constant source of inspiration in our kitchen, and this side is a perennial favorite at Miraval. We pair these flavorful, low-fat potatoes with our Beef Fillets, but they're also a fitting companion to chicken and fish entrees. Makes 1 ½ cups; Serving Size: ½ cup"
2 cups peeled and sliced russet potatoes (about 2 medium potatoes)
2 teaspoons extra-virgin olive oil
1/8 teaspoon kosher salt
1/8 teaspoon freshly ground black pepper
1 tablespoon pureed or mashed Roasted Garlic (recipe follows)
2 tablespoons chopped fresh basil
1. Place the potatoes in a medium saucepan with enough cold water to cover on inch, and bring to a boil over high heat. Reduce the heat and cook at a low boil until the potatoes are fork tender but not falling apart, 17 to 20 minutes.
2. Drain the potatoes well, place in a medium bowl, and mash with a potato masher. (Alternatively, turn the potatoes through a ricer into a bowl.)
3. Stir in the oil, salt, and pepper and mix well. Add the garlic, mix well, and then add the basil stirring to incorporate. Serve immediately.
Calories: 80 | Total fat: 1.5g | Carbohydrate: 13g | Dietary Fiber: 2g Protein: 2g
Roasted Garlic
Makes about ¼ cup; serving size; ¼ cup
¼ cup peeled garlic cloves
¾ teaspoon Miraval Oil Blend or canola oil
1. Preheat the oven to 375⁰F. Place the garlic in a small saucepan or baking dish, and lightly coat with the oil.
2. Roast uncovered for 10 minutes and stir. Continue cooking until tender and lightly browned, an additional 10 to 12 minutes.
3. Remove from the oven and let cool before using. (The garlic will keep in an airtight container refrigerated for up to four days.)
Calories: 20
Most recent from Recipes