Fitness Recipe: Refuel with Granola!
---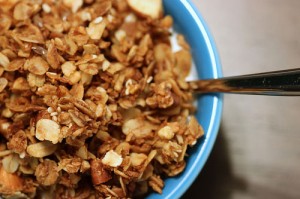 Granola is full of beneficial vitamins and nutrients that your body will thank you for while you're working out. And, since it's a great on-the-go snack, no more excuses for not eating before working out! When making or buying granola, make sure to check the ingredients – you want granola with oats and other grains like barley or buckwheat – not sugar – to be listed first, just like this granola recipe from Wellness Week™ participant, Mirror Lake Inn Resort & Spa in Lake Placid, NY.
With plenty of healthy fats, the nuts in this granola provide protein and iron for healthy red blood cells, as does iron-rich bran, which helps carry oxygen from the lungs to the muscles and other organs throughout the body – key for energy. Oats are quality carbohydrates, rich in fiber and heart-healthy omega-3s. They are also said to lower LDL, aka bad cholesterol, and stabilize blood sugar levels rather than crash them. All of these work to give you sustained energy – perfect for a pre-workout snack.
Mix this hearty treat with your favorite yogurt, or enjoy as a snack on its own!

Mirror Lake Inn Granola Ingredients (

Serves 15-20

):
Prep time: 10 min.
Cook time: 20-30 min.
Total time: 30-40min.
2 cups oatsPUT_CHARACTERS_HEREsgsddfdsfddfsdsdfsdfsdfsd ½ cup nuts (any kind)
1 cup whole wheat flour PUT_CHARACTERS_HERsfdsdddfsdsdfsd½ cup light vegetable oil
1 cup whole bran cereal (such as Special K or Bran Flakes)               1 cup honey
1 cup shredded coconut, or coconut flakes                                              ½ tsp vanilla
Instructions:
1.      Pre-heat oven to 350 degrees F.
2.      Combine all of the dry ingredients in a large bowl.
3.      In a small saucepan, heat vegetable oil and honey until combined. Remove from heat and stir in vanilla.
4.      Pour honey mixture over oat mixture, stirring to coat. Spread mixture on a 12" x 9" cookie sheet.
5.      Bake for 20 – 30 minutes.
6.      For fine granola, break apart while still warm. For larger granola pieces, break apart when cool.

Recipe type: breakfast, snack
Most recent from Recipes