From Tacos to Treats, Wellness Month Recipes
---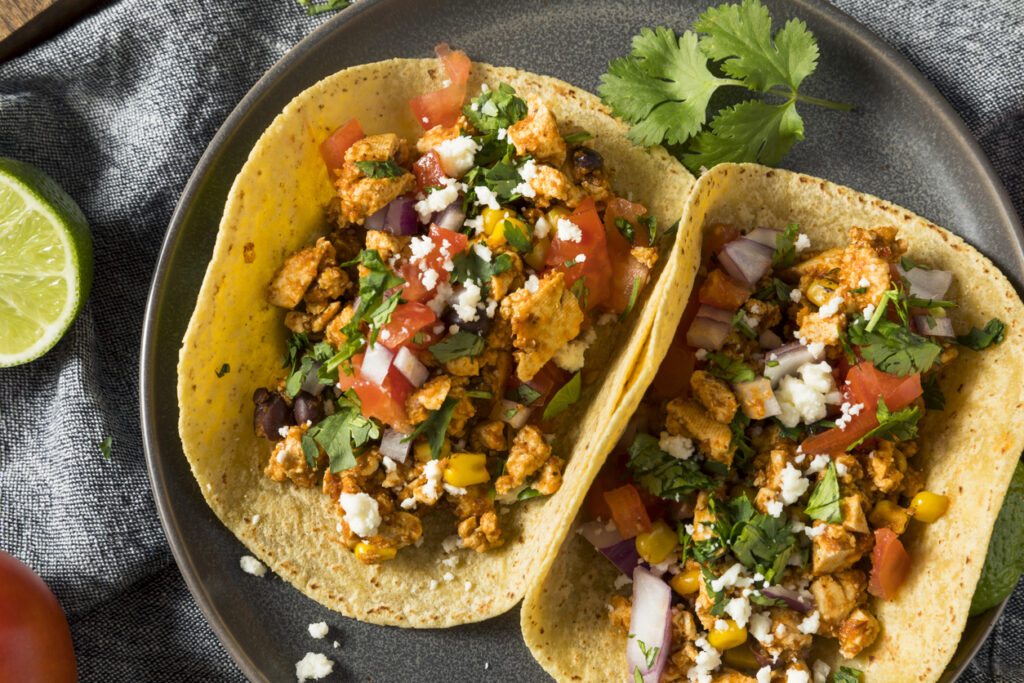 Wellness isn't just a buzzword, it's a way of life. It's the state of being in good health in a physical, mental, and spiritual sense. We say there's no better way to celebrate Wellness Month in August than with tasty and healthy tacos! Cooking is a stress-relieving activity that feeds your stomach and soul, and you can practice wellness this summer by whipping up healthy versions of your favorite comfort foods. Grilled pork and onion tacos are an easy dinner that taste amazing after a pool day, while you can also indulge a bit by making bacon chocolate with the kids for dessert. Yes, bacon chocolate and wellness definitely go together. Get healthy and discover the true meaning of Wellness Month this August with the following recipes from our friends at Food and Wine!
Grilled Pork and Onion Tacos
Looking for a smokey lunch without firing up your barbeque? Try these spicy tacos that are sure to hit the spot on a warm summer day.
Ingredients
3 jalapeños
Extra-virgin olive oil
One 1 1/2-pound flank steak
1 large onion—half cut into 1/2-inch dice, half sliced 1/4 inch thick
1 garlic clove, minced
1 pound tomatillos—husked and chopped
1/2 cup chopped cilantro
1 tablespoon fresh lime juice
Salt and freshly ground pepper
2 links of fresh chorizo
1/2 pound queso panela or halloumi cheese, cut into squares
1 avocado, diced
Directions
Step 1
Grab a grill pan and heat up, before grilling the jalapeños until charred. According to Food & Wine, you should "stem and seed the jalapeños; finely dice 2 of them. Thinly slice the remaining jalapeño and reserve on a platter."
Step 2
Heat 2 tablespoons of olive oil in a saucepan, before adding the diced jalapeños, garlic, and onion. Cook for about 10 minutes until these ingredients become a crispy golden hue, and then add the tomatillos and cook until softened. Let cool in a bowl, and then blend in the avocado, cilantro and lime juice before seasoning with salt and pepper.
Step 3
Oil the chorizo and grill over moderate heat until cooked through. Remove the chorizo casing and crumble the meat into a bowl. Lightly oil the cheese and grill for 1 minute per side, then oil the pan and grill the sliced onion until charred; put both on a platter.
Step 4
Oil the steak and shake on a bit of salt and pepper. Grill over moderately high heat, turning once, 8 minutes for medium-rare. Transfer to a cutting board and let cool for 5-10 minutes. Thinly slice the steak and serve in your tacos!
Chicken and Poblano Tacos with Crema
Chicken is a miracle ingredient that works in nearly everything and is a favorite for our wellness month recipes, and you'll feel refreshed and full of energy with these healthy chicken and poblano tacos – ready to help you through the hot days!
Ingredients
5 poblano chiles
4 boneless chicken thighs with skin (1 pound), pounded 1/2 inch thick
Extra-virgin olive oil, for brushing
Kosher salt
Freshley ground pepper
1/2 cup chopped cilantro
12 warm corn tortillas
Mexican crema or sour cream, shredded romaine lettuce, chopped white onion and lime wedges, for serving
Directions
Step 1
"Roast the poblanos directly over a gas flame or under a preheated broiler, turning, until charred all over," says Food & Wine. You can then move the chiles to a bowl, cover with plastic wrap and let them steam for 15-20 minutes. Peel, seed and stem the chiles before cutting into 1/4-inch strips.
Step 2
Brush the chicken all over with oil and season with salt and pepper, before grilling at moderately high heat in a pan. Turn over once, and let cook for about 10 minutes until the skin is brown and crispy. Cut the chicken into ½-inch strips when finished cooking.
Step 3
Toss the poblano strips into a bowl alongside the chicken and cilantro, and season with salt and pepper. Serve the chicken-poblano filling in the warm tortillas with the crema, lettuce, onion and lime wedges.
Chocolate Covered Bacon
Salt meets sugar with this unlikely duo that serves as the ultimate guilty pleasure during Wellness Month. Make it with your kids for a fun summer activity and snack!
Ingredients
8 slices bacon
1 cup semisweet chocolate chips
1 TBSP coconut oil
Directions
Cook the bacon as normal, and set aside on a plate or paper towel
Melt the chocolate chips in a double boiler, stirring occasionally until melted.
If necessary, stir 1 tablespoon of coconut oil into chocolate for easier dipping
Apply the desired amount of chocolate onto one bacon strip, being careful not to burn yourself
Apply pistachios, almonds, or other toppings if desired
Place in the refrigerator and allow chocolate to harden, and then enjoy!
Berry Cobbler
Berries are a summer essential – strawberries, blueberries, raspberries – and you'll have a berry good time during Wellness Month this August with this sweet recipe.
Ingredients
4 cups fresh or frozen berries
1 cup almond flour
¼ cup coconut oil or butter
1 tsp vanilla extract
15 drops stevia extract
Directions
Preheat the oven to 375°F and lightly grease a medium-to-large baking dish.
Place the berries in the baking dish.
Blend almond flour, coconut oil or butter, and vanilla into a small bowl.
Continue to mix these ingredients until you get a crumbly topping.
Sprinkle the topping evenly over the berries.
Place the baking dish into the oven and bake for about 20 minutes if using fresh fruit, or 30-40 minutes if using frozen fruit.
Remove from the oven when done and drizzle with organic honey or maple syrup if desired.
Serve with ice cream or whipped cream if desired.
And if fish is your dish, check out this healthy taco recipe from the Spafinder archives as another favorite of the wellness month recipes.
Have an occasion to celebrate? Gift Spafinder Gift Cards.