Go Fresh and Fruity with These Delicious Recipes for Fourth of July
---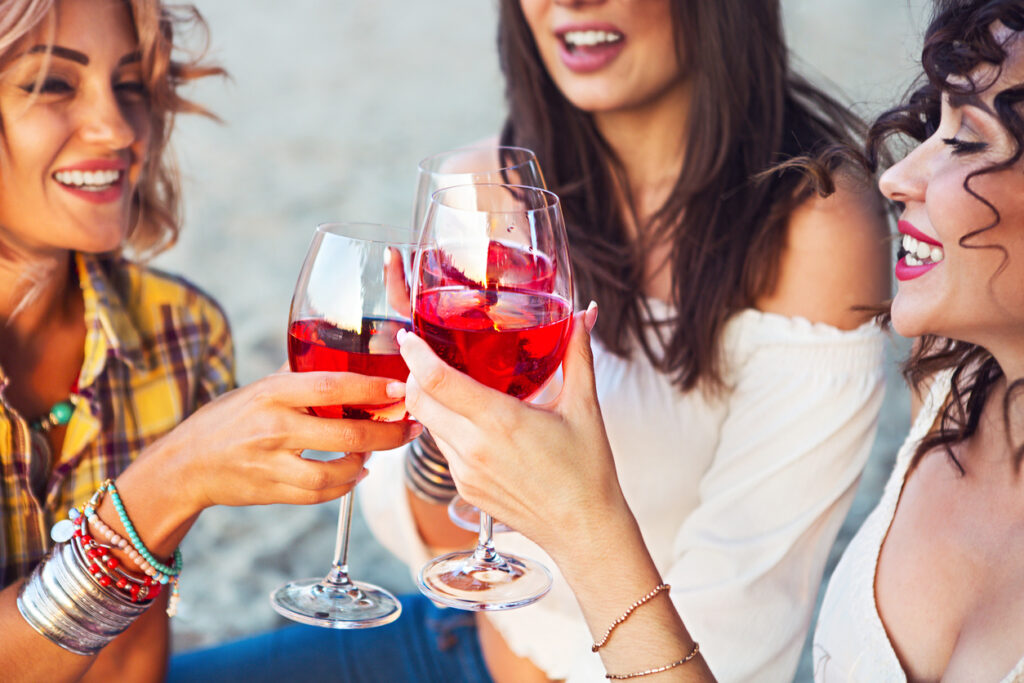 Fourth of July is right around the corner and we have so much to celebrate this year. For one, you might actually be enjoying a BBQ with friends and family. But don't leave the fireworks just to the sky. With these flavorful fruit Fourth of July recipes from A Couple of Cooks and Southern Living, you'll be lighting up any party — and treating your guests to healthy dishes and drinks.
Watermelon Salad with Feta and Cucumber
Nothing says summer like watermelon — it's cool, refreshing, and delicious. And this crowd-pleasing salad elevates watermelon from a juicy snack to a fantastic side dish. Our only complaint? It ranks among the top of Fourth of July recipes despite being red, white, and green. But we won't hold that against it.
Ingredients
8 cups cubed ripe seedless watermelon (1 8-pound watermelon)
2 organic mini cucumbers or ½ English cucumber (1 cup sliced)
2 ounces Happy Farms Preferred Original Feta
Zest of 1/2 lemon
4 basil leaves
Sea salt, for garnish
Instructions
1. Chop the watermelon into cubes. Slice the cucumbers (if using an English cucumber, slice it into half moons). Chop the basil. Zest the lemon.
2. Arrange the watermelon and cucumbers on a platter. Sprinkle with feta crumbles, lemon zest, and sea salt. Taste and adjust flavors as desired. (If you'd like, you can add freshly ground black pepper or a drizzle of olive oil.) Serve immediately.
If making ahead, refrigerate the cubed watermelon separately: it releases a lot of water after it is cut. Then assemble the salad directly before serving.
Watermelon Martini
Splash into summer with this sweet yet sophisticated drink. The playful red color makes it perfect for a summertime bash and one of our favorite Fourth of July recipes. Just be careful, it's so tasty that you might drink them faster than planned.
Ingredients
½ cup chopped watermelon (or ¼ cup watermelon juice)
2 large mint leaves
1 ounce (2 tablespoons) vodka
½ ounce (1 tablespoon) Cointreau
½ ounce (1 tablespoon) lime juice
1 teaspoon simple syrup
For the garnish: small watermelon wedge
Instructions
1. Add the watermelon and mint to a cocktail shaker. Muddle (gently mash) them with a cocktail muddler or wooden spoon to release the juices. (If you're using watermelon juice, simply muddle the mint first.)
2. Add the vodka, Cointreau, lime juice and simple syrup. Fill with ice and shake until cold.
3. Strain the drink into a cocktail glass. Garnish with a small watermelon wedge, if desired.
Strawberry Salad with Warm Goat Cheese Croutons
When you need a break from watermelon, simply skip over to strawberry heaven. This salad is bright, cheery, and will have everyone at the party clamoring for the recipe. It's the perfect addition to any patio potluck and the top of our list of Fourth of July recipes!
Ingredients
For the Salad:
2 (4-oz.) goat cheese logs
⅓ cup all-purpose flour
1 large egg
2 tablespoons whole milk
½ cup panko (Japanese breadcrumbs)
½ teaspoon kosher salt
¼ teaspoon black pepper
¼ cup vegetable oil
5 ounces mixed baby greens
1 ½ cups sliced fresh strawberries
1 cucumber, peeled, halved lengthwise, seeds removed, cut crosswise into 1/2-inch slices
¼ red onion, thinly sliced
Garnish: dill sprigs
For the Strawberry Poppy Seed Vinaigrette:
1 cup quartered fresh strawberries
2 tablespoons granulated sugar
5 tablespoons white wine vinegar
1 teaspoon kosher salt
¼ teaspoon black pepper
⅓ cup extra-virgin olive oil
1 tablespoon poppy seeds
Instructions
1. Cut each goat cheese log into 4 rounds. Gently press each round to 1/2-inch thickness on a baking sheet, and freeze 20 minutes.
2. Place the flour in a small bowl. Whisk together the egg and milk in a second small bowl. Combine the panko, salt, and pepper in a third small bowl. Dredge goat cheese rounds in flour, dip in egg mixture, and dredge in panko mixture until coated. Place on a plate, and chill until all goat cheese rounds are breaded.
3. Heat the vegetable oil in a large skillet over medium until hot. Add goat cheese rounds to skillet, and cook until golden brown on each side, 3 to 4 minutes total. Remove to a paper towel-lined plate.
4. To serve, arrange salad greens on a serving platter; top with strawberries, cucumber, onion, and goat cheese croutons. Drizzle with vinaigrette, and garnish with dill sprigs.
To Make the Vinaigrette:
Toss together strawberries, sugar, vinegar, salt, and pepper in a bowl; let stand 15 minutes. Transfer the strawberry mixture to a blender, and process until smooth, about 30 seconds. Turn blender on low, and gradually add olive oil in a slow, steady stream. Return mixture to bowl, and whisk in poppy seeds. Whisk vinaigrette just before serving.
Strawberry Rhubarb Crisp Recipe with Granola
For a creative, simple summer time dessert look no further than the incredible combination of strawberries and rhubarb. This dessert even has quinoa in it so you can count it as healthy. Call that a win-win.
Ingredients
1 1/2 pounds fresh rhubarb stalks, cut into 3⁄4-inch pieces
1 pound fresh strawberries, hulled and quartered
1 cup plus 3 Tbsp. granulated sugar
2 tablespoons tapioca flour or starch
3/4 teaspoon kosher salt, divided
10 tablespoons unsalted butter
3/4 cup packed dark brown sugar
1 cup uncooked old-fashioned rolled oats
3/4 cup all-purpose flour
1 teaspoon ground cinnamon
1/2 cup Fried Red Quinoa
1/4 cup roasted salted sunflower seeds
Directions
1. Preheat oven to 350°F. Combine rhubarb, strawberries, granulated sugar, tapioca flour, and 1⁄2 teaspoon of the salt in a saucepan. Cook over medium-low, stirring occasionally, until juices begin to thicken, 10 minutes.
2. Meanwhile, combine butter, brown sugar, oats, all-purpose flour, cinnamon, crushed Five Spice Almonds, Fried Red Quinoa, sunflower seeds, and remaining 1⁄4 teaspoon salt in the bowl of a heavy-duty stand mixer fitted with paddle attachment. Beat on medium-low speed until combined, about 1 minute.
3. Coat 12 (3-inch) 6- to 8-ounce ramekins with cooking spray. Spoon warm fruit mixture into ramekins, filling each halfway full (about 1⁄3 cup per ramekin). Top evenly with oat mixture (about 1⁄3 cup per ramekin), making sure fruit is covered. Place on a rimmed baking sheet. Bake in preheated oven until fruit is bubbling and topping is golden brown, about 20 minutes. Cool at least 30 minutes before serving.
Need a gift for a special occasion or just to say Thank You? Spafinder is the answer.