Healthy Spa Recipes from Green Mountain Spa at Fox Run
Published: Monday, May 17th 2010
in Recipes
---
Green Mountain Spa at Fox Run is a health and weight-loss retreat for women, specializing in non-diet weight loss since 1973. Founded on the vision that diets do not work, Green Mountain at Fox Run stresses the idea that eating right is critical to successful, permanent health and weight management.  Green Mountain has helped women to make realistic changes in their lives in order to help them achieve their health and weight loss goals, and to maintain them as well.  With delicious, nutritious, and easy prepare meals and snacks, Green Mountain has created a nutrition program that is realistic and can benefit women even without dedicating time to a retreat.  Sample some of the healthy and satisfying cuisine with these Green Mountain recipes.

Couscous and Roasted Vegetable Salad:
4 servings
1 package (10 oz) couscous
1 red bell pepper, chopped
1 yellow bell pepper, chopped
1 medium eggplant, peeled, seeded, and chopped
2 cloves garlic, finely chopped
5 tablespoons olive oil
2 tablespoons red wine of balsamic vinegar
2 tablespoons chopped fresh basil leaves
¼ teaspoon black pepper
4 oz feta cheese, crumbled

Prepare couscous according to package directions.  Fluff with fork; cool 10 minutes

Meanwhile, toss peppers, eggplant, garlic and oil in large bowl.  Spread in a shallow baking pan.

Set oven control to broil.  Broil vegetables with tops 3 inches from heat 4 to 6 minutes, stirring occasionally, until vegetables are evenly brown.

Place vinegar, basil, black pepper, cooked couscous and roasted vegetables in large bowl; toss.  Refrigerate at least 4 hours.

Just before serving, stir in cheese.

Grilled Pork Tenderloin with Spiced Apple Compote:
4 Servings
Sweet and Sour Marinade
1 ¼ pounds pork tenderloin
Spiced Apple Compote

Prepare Sweet and Sour Marinade.  Place pork in shallow glass or plastic dish.  Pour marinade over pork; turn to coat with marinade.  Refrigerate for 1 hour.

Meanwhile, prepare Spice Apple Compote; keep warm.

Grease grill rack.  Grill pork uncovered 4 to 6 inches from medium hot coals about 4 minutes or until seared. Turn pork; brush with marinade.  Tent pork with aluminum foil.  Cover and rill about 5 minutes or until instant-read thermometer reads 160 degrees.  Remove pork from grill.  Cover and let stand 5 minutes.

To serve, slice pork into medallions.  Top each serving with about 2 tablespoons Spiced Apple Compote.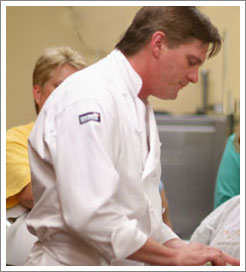 For Sweet & Sour Marinade:
½ cup apricot jam
¼ cup packed brown sugar
¼ cup rice wine vinegar
1 tablespoon chopped fresh cilantro
1 tablespoon chopped fresh gingerroot
¼ teaspoon crushed red pepper

Heat all ingredients in small saucepan over low heat for about 35 to 45 minutes; strain.

For Spiced Apple Compote
1 medium red onion, sliced
1 Granny Smith apple, peeled, cored and cut into wedges
1 tablespoon plus 1 ½ teaspoon packed brown sugar
¼ teaspoon ground cinnamon
¼ teaspoon ground nutmeg
1 tablespoon Calvados, if desired

Lightly spray 2-quart saucepan with nonstick cooking spray.  Heat saucepan over medium heat; add onion.  Cook, stirring frequently, about 10 minutes or until onion is brown and caramelized.  Add remaining ingredients; reduce heat to low.  Cover and simmer about 20 minutes or until apples are very tender.
Most recent from Recipes