Spa Recipe: A Natural Taste of Parrot Cay
Published: Monday, January 18th 2010
in Recipes
---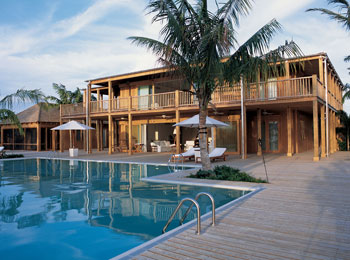 From the stunning Parrot Cay spa on a tranquil private island in Turks and Caicos, we bring you two organic non-dairy recipes from their gourmet-quality spa menu – zucchini & apple torta and raw sweet potato and leek soup.  Parrot Cay features Asian-inspired spa therapies, treatments incorporating Perricone products, a three-mile long private beach and a 5,500 square foot infinity pool.
Zucchini and Apple Torta (Prep time: 1.5 hours)
Torta
Ingredients:
4 ea Zucchini
3 ea Apple
1 pkg Rice paper
1 cup Guajillo sauce (recipe below)
1 cup Spinach cream (recipe below)
1 ea Avocado, sliced thin
Sea salt
Guajillo sauce
Ingredients:
6 ea Guajillo chile, soaked overnight
1/4 tsp Cumin
1/8 tsp Coriander
1 ea Lime juice
1 cup Tomato juice
1 tsp Pectin
Salt
Pepper
Procedure:
Combine all ingredients in blender and blend until thick. Strain through fine mesh strainer and season to taste.
Spinach cream
Ingredients:
3 cup Baby spinach
1 clove Garlic
1 pc Scallion
1/2 ea Lime juice
1 tb Olive oil
Salt
Pepper
Procedure:
Wash and drain spinach well. Remove stems and combine with all other ingredients in blender. Blend well and season to taste.
Assembly procedure:
To assemble torta, arrange all ingredients in separate bowls around one large cutting board. Find a deep pan large enough to hold the diameter of the rice paper and fill it half way with cool water. Place three sheets of rice paper into the water and allow to soak for 2-3 minutes or until the paper is smooth to the touch. Remove sheet and quickly dry on paper towels.
Place rice paper sheet on cutting board and begin the layering process with a very light layer of guajillo sauce followed by a layer of zucchini.
Season.
Remove the next sheet of rice paper, dry, and place on top of the zucchini.
Brush this layer with the spinach sauce and top with apples.
Season.
Remove the next sheet of rice paper, dry, and place on top of the apples.
Spread the thin sliced avocado on this layer and season.
Repeat process once more and refrigerate for 2 hours.
Raw Sweet Potato and Leek Soup
Ingredients:
•             1 lb sweet potato
•             1 lb leek
•             1 avocado
•             1 tbsp Braggs seasoning
•             1 small knob ginger (finely chopped)
•             1/2 white onion
•             1 vine-ripened tomato
•             Celtic sea salt and pepper to taste
•             1 cups charged water
Procedure:
•             Peel, wash, and chop the sweet potato and leeks.
•             Place all the ingredients in a blender and blend until the texture is smooth.
•             Adjust seasoning if necessary.