Spa Recipes: Cleansing Cocktails
Published: Thursday, January 7th 2010
in Recipes
---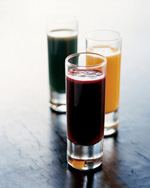 "Stress Reliever" and "Bloat Away" aren't results-oriented spa treatments. At COMO Shambhala Estate at Begawan Giri in Bali, they're health-boosting beverages from the spa's specialty juice menu. The menu features 20 targeted (and whimsically named) juices that blend local fresh fruit and vegetables with herbs, such as fennel and parsley (great for digestion), to delicious effect.
Created by the Estate's resident nutritionist, Amyjo Johnson, and executive chef Chris Miller, the juices are created "with health and taste in mind," emphasizes Monica Barter, group operations director for COMO Shambhala. Here are three recipes of the spa's most popular varieties.
Directions: Blend with a juicer or extractor and enjoy.
Stress Reliever
11 oz. carrot
9 oz. red apple
2 1/2 oz. red grapes
1 thumbnail-size piece of ginger
2 oz. spinach
2 oz. fennel
2 oz. beetroot and leaves
2 oz. celery
3 1/2 oz. sweet potato
Body Armor
9 oz. carrot
3 1/2 oz. celery
7 oz. spinach
5 oz. lettuce
2 1/2 oz. parsley
2 1/2 oz. fennel
2 1/2 oz. broccoli
Bloat Away
7 oz. cucumber
2 1/2 oz. parsley
7 oz. celery
3 1/2 oz. fennel
9 oz. pear
Exclusive SpaFinder Deal:
Savings of up to 20% on Select Lifestyle and Healing Programs at COMO Shambhala Estate in Bali, Indonesia!
Most recent from Recipes