Spa Recipes: Southern Comfort SPA-Style!
Published: Tuesday, March 16th 2010
in Recipes
---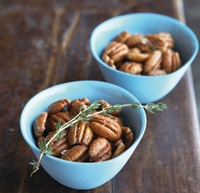 Southern cooking ain't all deep fried and battered.  Virginia Willis, chef and author of Bon Appétit, Y'all, serves up healthy and delicious Southern cuisine, plus she'll be teaching cooking workshops at Rancho La Puerta May 15 – 22.  Enjoy Virginia's spa recipes: Valdosta Grilled Trout with Olive Oil and Thyme Toasted Pecans.  It's not just good for the soul, it's good for you.


Spa Recipes: Valdosta Grilled Trout with Olive Oil and Thyme Toasted Pecans
Guest blogger: Virginia Willis

Serves 4

Several years ago, my girlfriend Becky and I were traveling in the Alps and went through the Saint Bernard Pass from France to Italy, stopping in Valle d'Aosta. We laughed the whole time we were there, as we called it Valdosta, a South Georgia town near the Florida border better known more for pine, pulpwood, and turpentine than Roman ruins and fine cheeses.

The first evening, Becky and I went out for dinner, wandering the ancient, winding cobblestone streets looking for a restaurant that seemed inviting. We found one. Thinking of the wooded forests nearby, I ordered rabbit. I should have been thinking of the crystal clear streams of melted snow. Becky ordered trout. They brought it to the table whole, on the bone. The waiter then proceeded to fillet it at the table. When done, he asked if she would like it drizzled with olive oil. It was a revelation.

Trout is a very user-friendly fish to grill. Not only does its tough, leathery skin help keep the fish from falling apart, but it also insulates the flesh from the direct heat of the grill. This is the time to break out your best extra-virgin olive oil. The smoky, herb-infused fish just needs a little kiss of liquid gold.

4 (6- to 8-ounce) whole trout, gutted
Coarse salt and freshly ground black pepper
2 lemons, very thinly sliced, plus 2 lemons, cut into wedges, for garnish
8 sprigs of thyme
8 sprigs of parsley
4 bay leaves, preferably fresh
Best-quality extra-virgin olive oil, for drizzling

Prepare a charcoal fire using about 6 pounds of charcoal and burn until the coals are completely covered with a thin coating of light gray ash, 20 to 30 minutes. Spread the coals evenly over the grill bottom, position the grill rack above the coals, and heat until medium-hot (when you can hold your hand 5 inches above the grill surface for no longer than 3 or 4 seconds). Or for a gas grill, turn on all burners to High, close the lid, and heat until very hot, 10 to 15 minutes.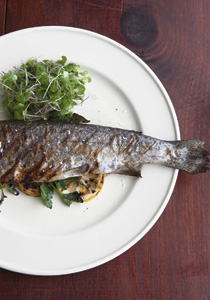 Meanwhile, place the trout on a clean work surface and season inside and out with salt and pepper. Equally divide the lemon slices, thyme, parsley, and bay leaves among the trout cavities.

Place the stuffed trout on the grill, heads facing in one direction. Grill, covered, until cooked on one side, about 5 minutes.

Uncover the grill, and flip the trout over (simply roll them over with a metal spatula). Cover, and continue cooking until the trout is done on the second side, an additional 3 to 5 minutes.

To serve, remove the trout to a warm platter and drizzle with olive oil. Garnish with the lemon wedges and serve immediately.

Thyme Toasted Pecans
Makes 4 cups

Southerners always seem to have candied and spiced pecans around to nibble on during the holidays. My grandmother always made sweet pecans crusted with egg whites and sugar, using the nuts she and my grandfather had collected in the fall. So this version, with extra-virgin olive oil and herbs, is a real departure for my family. Recipes such as this, with a short ingredients list, are completely determined by the quality of the ingredients. The shorter the list, the better the ingredients must be. Pecans are the star, but the choice of olive oil and salt is crucial to the success of the dish. Use the finest possible. This recipe is splendidly simple, just perfect with apéritifs and for cocktail parties.

4 cups pecan halves
2 teaspoons coarse salt or sea salt
1 teaspoon freshly ground black pepper
1 tablespoon fresh thyme leaves
3 tablespoons extra-virgin olive oil

In a large, dry skillet, toast the pecans over medium heat until golden brown and fragrant, about 5 minutes.

Meanwhile, in a large bowl combine the salt, pepper, thyme leaves, and olive oil.

Add the warm toasted pecans to the thyme-oil mixture. Stir well to combine and evenly coat the pecans. The fragrance is amazing! Taste and adjust for seasoning with salt and pepper.

Making ahead: Once the seasoned nuts have cooled, store them in an airtight container in the refrigerator for up to 2 weeks. Bring them to room temperature before serving.
Most recent from Recipes