Summer Spa Recipes from Cal-a-Vie
Published: Tuesday, June 22nd 2010
in Recipes
---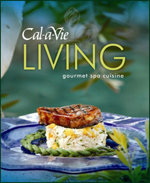 Hot summer days and nights are the perfect time to try new salads with cool lettuce and fresh fruit with light, crisp flavors.  Cal-a-Vie's Chef Steve Pernetti brings us the perfect vegetarian rice and seitan salad with bursts of juicy grapes that will be sure to refresh guests at summer picnics and barbeques!   Enjoy Pina Colada Sorbet as a post-summer meal treat!

Roasted Seitan, Wehani Rice and Chilean Grape Salad with Tarragon Vinaigrette & Pina Colada Sorbet

Tarragon Vinaigrette:
2 shallots, chopped
2 garlic cloves, chopped
1 teaspoon Dijon mustard
1 teaspoon low-sodium soy-sauce
¼ cup filtered water
¼ cup sherry vinegar or tarragon vinegar
½ teaspoon xanthan gum
1 tablespoon extra-virgin olive oil
Salt and freshly ground pepper to taste
2 tablespoons chopped fresh tarragon

Salad: (12 Servings)
3 cups roasted seitan, cut into thin strips
3 cups cooked wehani rice
3 cups Chilean grapes, cut into halves
1 cup chopped celery
¼ cup minced parsley
¼ chopped chives
¼ cup toasted walnuts, chopped
9 cups shredded butter lettuce
12 large butter lettuce leaves

For the vinaigrette: Combine the shallots, garlic, Dijon mustard, soy sauce, water vinegar and xanthan gum in a blender; prcess until pureed.  Add the olive oil, salt and pepper gradually, processing constantly until smooth.  Combine with the tarragon in a bowl and mix well.

For the salad:  Combine the seitan, wehani rice, grapes celery, parsley and chives in a bowl.  Add the shredded lettuce and vinaigrette and toss to coat evenly.  Add the walnuts.  Spoon the mixture onto a bed of the butter lettuce leaves.

Pina Colada Sorbet: (6 Servings)
¼ cup sugar
½ cup Splenda
½ cup orange juice
½ cup water
1ripe pineapple, chopped
½ light coconut milk
2 tablespoons rum

Toasted shredded coconut, for garnish

1)      Combine the sugar, Splenda, orange juice, and water in a saucepan and mix well.  Bring to a boil and remove from heat.
2)      Process the pineapple with the coconut milk in a blender until pureed.  Add the rum and orange juice mixture and process until smooth.  Spoon into a freezer-safe container and freeze until firm.
3)      Scrape the frozen mixture with an ice cream scoop and place in serving bowls.  Garnish with toasted shredded coconut.

Most recent from Recipes