Sweet as a Georgia Peach: Summer Peach Recipes
Published: Saturday, August 8th 2015
in Recipes
---
Summer is all about fresh fruits and one of our favorites is the peach! Full of juicy flavor and tons of vitamins and nutrients, peaches are perfect for making appetizers, salads, desserts, smoothies, and more! Here's just a few spa recipes for those sweet peaches!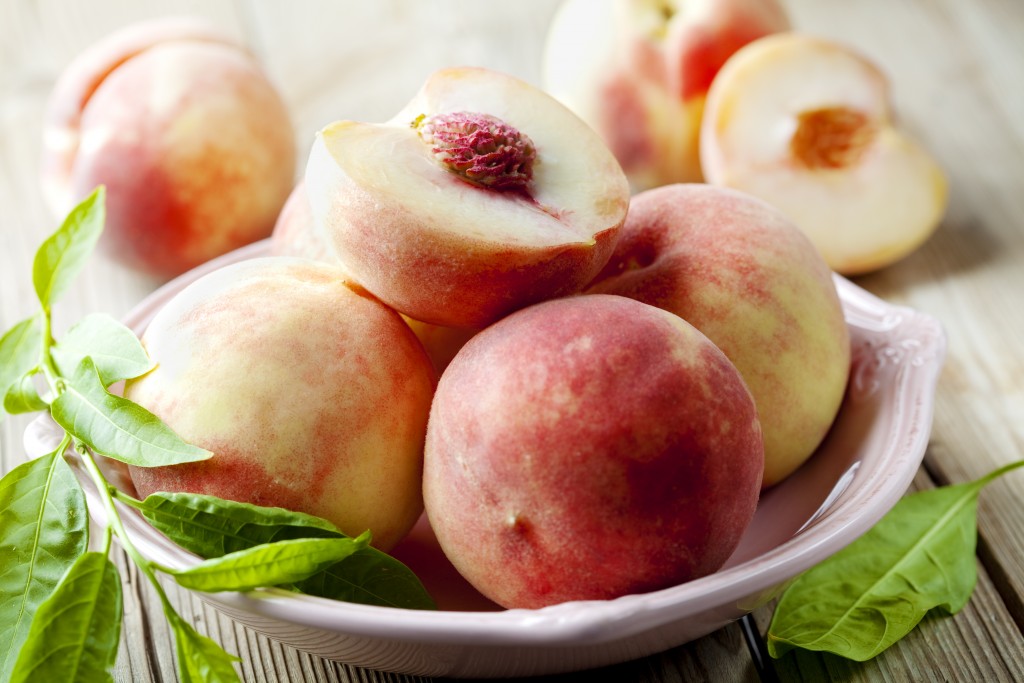 Peach Vinaigrette from Pritikin Longevity Center & Spa, Miami, Florida
Makes about 12 two-tablespoon servings. About 15 calories per 2-tablespoon serving )
2 cups diced fresh peaches
1 cup white balsamic vinegar
1 tablespoon low-sodium Dijon mustard
1 tablespoon garlic, minced
¼ cup fresh chopped basil leaves
¼ cup apple juice concentrate (found in the frozen food section of supermarkets)
Place all ingredients in a blender.  Blend until smooth.
Peach-Champagne Bisque from Miraval Resort & Spa, Tuscon, Arizona
Makes 4 Cups; Serving Size: ½ cup
4 cups frozen, skinless, freestone peaches
1 cup apple juice concentrate, not frozen
½ cup champagne or good-quality sparkling wine
4 fresh blackberries or raspberries
1/8 teaspoon canola oil blend
¼ teaspoon sugar
¼ teaspoon chili powder
1 teaspoon chiffonade mint
1. Combine the peaches, apple juice, and champagne in a blender and pulse to mix. Blend on high speed until smooth.
2. Toss the berries with the oil in a small bowl. Add the sugar and chili powder, and toss to coat the berries.
3. To serve, divide the soup among four shallow bowls. Place one berry in the center of each bowl and arrange mint around the berry. Serve immediately.
Calories: 50 | Carbohydrates 12g | Protein 1g | Total Fat 0g | Fiber 1g
Peach Crisp from Red Mountain Resort, Ivins, Utah
Serving Size: ½ cup Cobbler + 2 oz. Ice Cream
For the filling:
10 cups raw or frozen peaches
1 cup organic cane sugar
½ cup brown sugar
4 tablespoons tapioca flour
1 tablespoon fresh lemon juice
1 teaspoon cinnamon
½ teaspoon allspice
For the topping:
½ cup all-purpose flour
½ cup rolled oats
½ cup brown sugar
1½ teaspoon cinnamon
½ cup butter, unsalted, cold
1. Combine the filling ingredients in a bowl; stir gently.
2. Spoon fruit mixture into 9"x13" baking dish coated with cooking spray; set aside.
3. Place all ingredients for topping in a food processor and pulse until the topping is in very small pieces.
4. Spread the topping evenly over the filling. Bake at 350F degrees for 30-35 minutes or until filling is bubbly and crust is golden.
Calories: 180 | Carbohydrates 35g | Protein 1g | Fat 5g | Fiber 2g
Spiced Peach & Orange Smoothie from Hilton Head Health, Hilton Head Island, South Carolina
20 Servings, Serving Size: 8 oz.
10 cups peaches, frozen
2.5 cups orange juice concentrate
2.5 cups yogurt, plain, fat-free
5 cups milk, skim
¼ cup + 1 tablespoon sugar
2 1/5 tsp. vanilla extract
1 tsp. cinnamon, ground
Combine all ingredients in a blender and process until smooth.
Calories: 130 | Carbohydrates 29g | Protein 5g | Fat 0g | Fiber 1g
Sweet Peach Smoothie from Sanctuary Camelback Resort and Spa, Paradise Valley, Arizona
Most recent from Recipes