Three Healthier Ways to Indulge in S'Mores: Recipes Included
---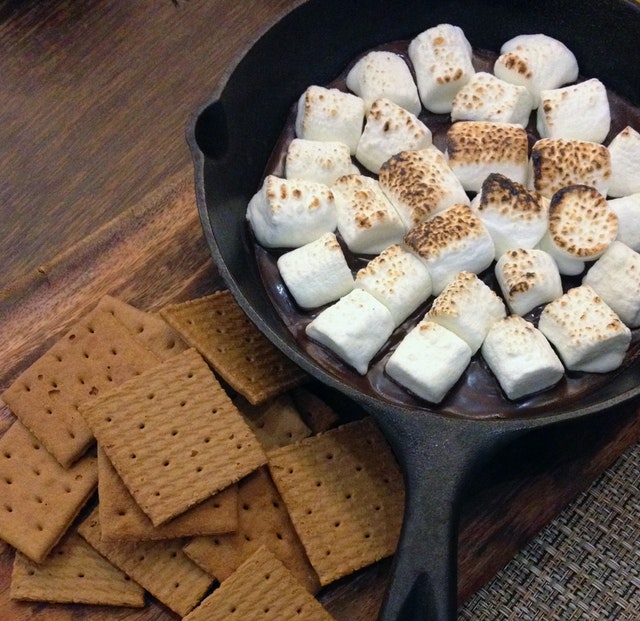 Delicious, luscious s'mores aren't at the top of anyone's healthy eating list. And with nearly 300 calories, 10 grams of fat and a whopping 24 grams of sugar in a typical serving, you won't find a s'mores recipe in weight loss cookbooks. However, if you're tempted to indulge in this classic treat, here are three recipes to make your marshmallow and chocolate delicacy a little bit healthier but still scrumptious.
Who invented this tempting treat?
The first known recipe for s'mores showed up in a Girl Scout Handbook, "Tramping and Trailing with The Girl Scouts," published in 1927. The recipe listed the classic ingredients: two graham cracker halves, one toasted marshmallow and  1⁄2 chocolate bar. Roasting the marshmallow over an open campfire gives it the traditional charred taste. However, if you don't have a campfire handy, popping the marshmallows under a broiler is a good substitute.
Chocolate Makes a Difference
Recipe number one shows how easy it is to make a s'more a little bit healthier.  First, swap ½ bar or less of dark chocolate for traditional milk chocolate. Second, enjoy the benefits of eating chocolate with more cocoa. Adding milk, sugar, and cream often makes milk chocolate higher in calories and fat. Dark chocolate has a higher concentration of cocoa and fewer additives, making it an excellent source of flavonoids, which are a special kind of antioxidants.  In addition, one 100-gram bar of dark chocolate (70 to 85 percent chocolate) contains 67 percent of the RDA for Iron, 58 percent for Magnesium, 89 percent for Copper and many more benefits. [1]
S'mores with fruit, please
S'mores recipe number two is also easy breezy. Add apple or banana slices or a berry puree and you also add vitamins, minerals and fiber. Here are two simple ways to make a yummy berry sauce you can spoon over the marshmallow for an unexpected and flavorful treat.
One quart of organic strawberries and one pint each of blueberries and blackberries make a tasty blend. You can also make your puree using a single type of berry. For example, raspberries are delicious with chocolate.
Add 1/4 to 1/3 cup of sugar, ½ vanilla bean or 1 and ½ tsp. of pure vanilla extract.
Roast on a baking sheet or in a baking dish at 450 degrees for 20-25 minutes until berries are soft and tender.
Puree in food processor or blender. (You can strain for a finer puree.) Store in refrigerator.
In addition, you can simmer a smaller amount of berries and sugar in a saucepan over low to medium heat for five to seven minutes. (Stir in sugar to taste as berries cook, starting with one or two tablespoons.) When the berries are soft and juicy, add ½ to 1 tsp. of vanilla. Strain or serve as is.
Add a zap of protein to your s'more
The next recipe is even easier. Simply add a tablespoon or two of your favorite nut butter between the toasted marshmallow and chocolate and let the flavors melt in your mouth. There are seven to eight grams of protein in the average two-tablespoon serving of nut butter. In addition, adding protein combats the sugar high you might get from a traditional s'more.
We think living the spa life includes indulgent treats from time to time, even decadent ones like s'mores. Adding a little nutrition makes this a desert you can enjoy without guilt.
[1] HealthLine.com, "7 Proven Benefits of Dark Chocolate"
Most recent from Recipes