Three Pumpkin Recipes You'll Love
---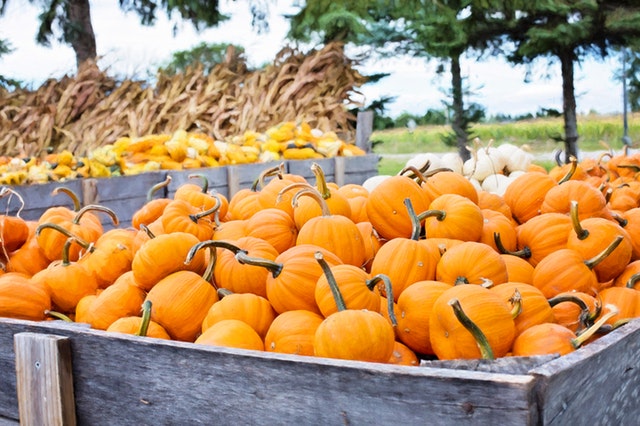 It wouldn't be the holidays without pumpkin deserts and treats. Here are three of our favorite pumpkin recipes (plus a bonus healthy pumpkin latte) from spa chefs and food experts who know how to make healthy taste good.
The skinny on pumpkin
Here's a quick look at the host of good-for-you benefits in pumpkin.  First, there are three grams of fiber per one-cup serving and only 49 calories. This means you will feel full longer without the calories. Next, one cup of cooked pumpkin has more potassium than a banana (564 milligrams versus a banana's 422).  In addition, pumpkins contain the antioxidant beta-carotene, which some researchers say may aid in cancer prevention.
No bake, lactose-free, super yummy pumpkin pie mousse
You can find traditional pumpkin pie recipes everywhere but here is an easy and delicious option from the famous Red Mountain Resort in Ivins, Utah.
Red Mountain Resort's Pumpkin Mousse

‍1 cup cashews unsalted raw
½ cup pecan pieces, raw
1 cup pumpkin puree
2 tablespoons coconut oil
½ cup FruitSweet (or agave syrup, maple syrup or honey)
½ cup water
¼ teaspoon kosher salt
¼ teaspoon ground allspice
¼ teaspoon ground ginger
⅛ teaspoon cloves, ground
1 teaspoon cinnamon
Directions
‍Combine all ingredients in blender
Puree on high speed until smooth
Transfer the mixture into half cup creme brulee ramekins or small bowls
Chill and enjoy
Garnish with a light dusting of cinnamon and a sprig of mint. For your guests that enjoy dairy, serve with a bowl of organic whipped cream.
Miraval's Pumpkin Spice Cookies
Everyone loves cookies and these pumpkin spice treats from the spa chefs at Miraval Arizona are a delicious holiday desert or snack.  There is no dairy, making these cookies a yummy option for guests who are lactose-intolerant.
Ingredients (Makes 24 cookies)
2 Tbsp. butter, softened
2 Tbsp. prune puree
1 c. brown sugar
¾ c. canned pumpkin
¼ c. molasses
1 egg
1 egg white
1 tsp. vanilla extract
1½ c. unbleached all-purpose flour
½ c. whole-wheat flour
½ tsp. baking soda
1 tsp. baking powder
1 tsp. cinnamon
½ tsp. allspice
½ tsp. ginger
Pinch of kosher salt
Directions
Heat the oven to 350°F. Spray a baking sheet with nonstick cooking spray and set aside. Cream together the softened butter, prune puree, and brown sugar. Add the canned pumpkin, molasses, egg, egg white, and vanilla and continue to mix until smooth.
In a separate bowl, sift together the flours, baking soda, and baking powder and add the cinnamon, allspice, ginger, and salt. Add the dry ingredients to your mixer and mix on low speed just until incorporated. Scoop spoonfuls of dough onto the baking sheet, leaving about 2 inches of space between the balls of dough. (They will spread slightly during cooking.) **Bake for 12 to 14 minutes, until puffed and slightly golden around the edges. Cool at room temperature.
Pumpkin pie in a glass (or cup)
If you prefer to drink your pumpkin pie, check out this recipe for a healthy, protein-licious smoothie from GreekGirl.com.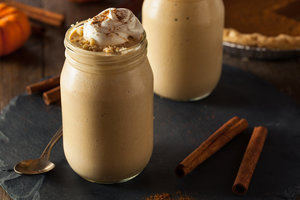 1 cup unsweetened almond milk
2 scoops Greek Girl protein
½ cup pureed pumpkin
1 tablespoon cashew butter
¼ teaspoon nutmeg
Dash of ground cloves
Cinnamon to taste
Blend until completely combined.
In addition, we think you'll enjoy this healthier pumpkin spice latte.
Spafinder Gift Cards—the perfect gift for every occasion.
Find luxurious spa getaways.