Valentine's Day Recipes: Baked Oysters and Dark Chocolate Crème Brûlée
---
With the aphrodisiacal properties of oysters and chocolate, what better time to try out some new oyster and chocolate recipes than Valentine's Day?
Awarded the AAA Four-Diamond Award of Excellence, and an 11-time winner of Wine Spectator's Dining Guide Award of Excellence, Mirror Lake Inn's cozy restaurant, The View, and its executive chef, Jarrad Lang, share two delicious recipes for baked oysters and a dark chocolate crème brûlée. Grab a bottle of wine, start up the fireplace, and impress your sweetie with the Inn's award-winning dishes from the comfort of your own home.
BAKED OYSTERS (WITH BACON, LEEKS, AND FRIED SHALLOTS) INGREDIENTS: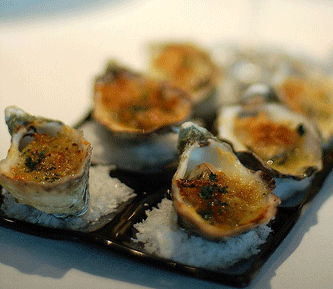 12 oysters, well cleaned and opened on the half shell
3 slices smoked bacon, 1/4" thick
2 leeks, whites only
Salt and pepper
1 pint cream
2 oz. butter
2 oz. flour
5-10 black peppercorns
1 bay leaf
Sprig of fresh thyme
4 oz. Camembert cheese, rind removed, cubed
2 shallots
1 cup buttermilk
Fresh parsley, chopped
INSTRUCTIONS:
1.      Cut the bacon into ¼" lardons and render out in a sauté pan over low heat. When the fat is rendered out and the bacon is crisp, remove from oil and drain on paper towels.
2.      For the leeks, remove the green and root ends, cut in half lengthwise and wash well. Julienne the leeks on a bias and sweat in a sauté pan with butter until soft and tender. Season with salt and pepper.
3.      In a sauce pan, make a roux by melting the 2 oz. of butter and adding the flour, allow to cook over low heat for a couple of minutes. Add the cream to the roux while stirring with a whisk, making sure there are no lumps, add peppercorns, bay leaf and thyme, bring to a simmer and cook for 20 minutes, stirring often. Remove the sauce from the heat and add in the Camembert, stirring until melted in. Pass sauce through a fine wire strainer, and adjust consistency with cream or milk if necessary.
4.      For the shallots, peel and cut shallots into thin round slices, as if making little onion rings. Soak shallots in buttermilk for 5 minutes, drain well and toss in seasoned flour. Shake off excess flour and deep fry in oil heated to 375° until golden brown. Drain off on paper towel.
5.      Set the oysters up on a baking pan lined with salt (to keep oysters from tipping and sliding around). Add the leeks and bacon to each and then top with the sauce, bake in a 425° oven for 5-7 minutes or until the sauce starts to bubble and slightly brown. Top each oyster with some crispy shallots and fresh chopped parsley to finish and serve.
Preparation for this dish may be done a day in advance. Shucked oysters may be used and baked in small oven safe dishes.
DARK CHOCOLATE CRÈME BRÛLÉE INGREDIENTS: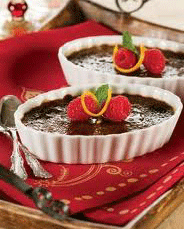 1 quart heavy cream                          ½ tsp vanilla
6 oz. sugar                                           1 cup egg yolk
6 oz. dark chocolate chips
INSTRUCTIONS:
1.      In a sauce pot heat the cream, sugar, and vanilla to a boil.
2.      Slowly pour half the hot mixture into the yolks, stirring constantly with a whisk, to temper the yolks.
3.      Pour the tempered yolks back into the cream mixture, add the chocolate and stir until melted and smooth.
4.      Pour or ladle the chocolate mixture into oven safe dishes, no more than an inch deep, and bake in a water bath at 325° until set. Crèmes should shake like jello when done, about 20 to 30 minutes. Be careful not to overcook.
5.      Cool at room temperature for 1 hour, and then move to cooler.
To serve: Cover the tops of crèmes with sugar, shake off excess. Caramelize the sugar with a brûlée torch. Garnish with berries. If you don't have a torch, use the broiler.
For more on Mirror Lake Inn and the Lake Placid area, read about my two-day excursion!
Most recent from Recipes