Spa 101: Baby Massage Class
Published: Monday, July 19th 2010
---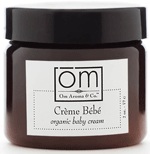 Little ones need all the tender loving care that parents can give. Learn to bond with your baby and de-stress at the same time by reserving a spot at Om Aroma & Co.'s Baby Massage Class.
Massage, a relaxing ritual for both you and baby, is said to improve your tot's muscular coordination, circulation, and immune system, help you distinguish your baby's cues, and aid in ailments like insomnia and teething.
Om Aroma & Co., an anti-aging organic spa and skincare line, also offers luxury products for baby, such as its Creme Bébé (2 oz., $14) and Sweet Baby Oil with lavender (8 oz., $24). (Designed to spoil the both of you, these scrumptious products will leave your skin baby soft!)
Space is limited so book your appointment now!



When: Tuesday, July 20, 2010, from 11:00 a.m. – 12:00 p.m.
Fee: $20 (redeemable in product) PLUS complimentary Fresh Face Fix by the company's aesthetician
Where: Om Aroma at Limelight Marketplace (6th Avenue and 20th Street, NYC)
If you're not in New York City, check out if your local spas offer mommy-and-baby services.
Most recent from Relationships