What to Expect During a Couple's Massage
---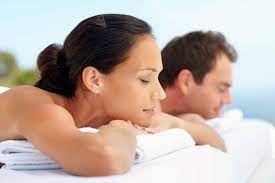 If you've never had a couple's massage, you have been missing out on one of the most delightful and memorable spa experiences available. Sharing such a relaxing and memorable occasion provides opportunities for connecting and bonding with your loved one in a unique and meaningful way.
A couple's massage is just like any other massage service, but you and your partner receive the massage at the same time, on separate tables, and by two different massage therapists.
The massage is generally offered in a private room on side-by-side massage tables. When booked in a full-service spa a couple's massage will typically include access to showers, hot tubs, lounging areas, and other spa amenities. Many couple's massage treatments may offer special amenities such as champagne, chocolates, and fruit.
Usually, there is an initial consultation with the massage therapist prior to any treatments to review your session goals and answer any questions you may have. At that point, the therapist will leave the room for a short time while you and your massage partner disrobe and lie down on the massage tables, with sheets covering you.
Couple's massage is a great way for women to introduce their significant other to the benefits of massage therapy. Many people who are unfamiliar with massage are reluctant to try it, but can be convinced if they don't have to do it alone. Both massages will end at the same pre-appointed time. The massage therapists let you know the session has ended, leave the room while you dress, and then greet you at the door with fresh water.
At the Spa at Desert Princess, the Wine & Roses for Two Package is our ultimate romantic spa experience for couples, starting with champagne and chocolates in our private couple's room. Next is a 60-minute, full-body scrub with Napa Valley grape seeds and natural geranium essential oils. After a quick shower and an application of Rose Petal After-Bath Lotion with protein enzymes, you and your sweetheart will enjoy a 30-minute cranial massage.
Our Desert Duo package starts with champagne and chocolate in the private couple's massage room and the 60-minute aromatherapy massage begins after selecting the essential oil. The perfect ending to this spa experience is the 60-minute Noni Botanical Fruit Facial, which uses Noni Juice, famous for its healing and restorative properties, leaving you and your lover pampered and rejuvenated.
A couple's massage is the perfect gift for any occasion. Whether Valentine's Day is just around the corner or a long way off, you should book yours now.