Beverly Wilshire Launches Innovative Taste-Based Spa Concept
---
Uniting both spa and gastronomy, the famous Beverly Wilshire Hotel has recently launched a new taste-based spa concept, A Taste of Beauty.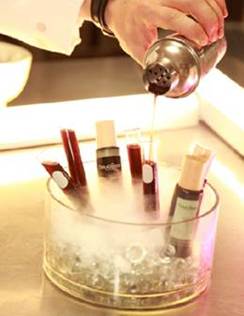 The Spa at the Beverly Wilshire, A Four Seasons Hotel, has collaborated with Natura Bissé, the Spanish skincare line, to combine fine cuisine, luxury beauty products and innovative technology into one luxurious experience. A Taste of Beauty brings together the beauty rituals created by Natura Bissé and the avant-garde cooking of the hotel's Executive Chef Gilles Arzur to create a fusion of tastes, aromas, tactile sensations, temperatures and colors through culinary and beauty products.
Right in line with SpaFinder's Top 10 Trends of 2012, which specifies spa and dining increasingly working together to create extravagant packages and memorable experiences, A Taste of Beauty at the Beverly Wilshire includes a 90-minute spa treatment designed by Natura Bissé, followed by a specially prepared seven-course culinary experience by Chef Arzur in a private setting.
THE TREATMENT
First, experience a complete beauty ritual from head to toe that treats the skin using Natura Bissé products:
Synergy Welcome Inhalation: Essential oils from Lemon, Lavender, Rosemary and Sage calm the senses, while revolutionary neuro-peptide stimulates the release of beta-endorphins to increase the feeling of well-being. Products used: Aroma nector detox/neuropeptide concentrate, the cure all-in-one cleanser and NB ceutical tolerance toner
Skin Refresh: Just beyond the skin you see and touch, lies the one you desire- youthful, radiant, and refreshed. A novel concept in skincare, carboxitherapy is a new technique that uses CO2 to produce an explosion of oxygen, leaving skin visibly revitalized. Product used: Glyco 3 Peel
Marine & Mint Infusion: To rebalance mind and body, energizing chakra maneuvers are performed followed by a stimulating menthol-rich mist. With this step complete the skin is then treated with a marine based serum to infuse each cell with natural ATP energy. Products used: V Relax, Diamond Experience Nectar and Diamond Experience Essence.
Black Magic Body Scrub: A shimmering black mud, made of micronized iron and real diamond dust, purifies the hands, arms, and decolette. As if by magic, the dark mud is lifted off of the skin with magnets, revealing radiant, luminous skin that shimmers like diamonds. Products used: Diamond Experience Magnetic and Diamond Experience Body Cream
Cyro Lavendar Mask: A cool firming mask is placed over the face, providing the soothing and calming benefits of lavender essential oil. The cool veil tightens the skin, as it infuses marine DNA deep into its layers, imparting exceptional reparative and protective properties to the skin. Product used: Diamond Experience Cyro Mask
Aroma Touches: A final deep breath and spa touches throughout the body takes your spirit on a sensorial journey as spicy aromas, such as incense, cardamom and pepper, awaken the senses. Product used: Aroma Nectar Stimuli
Diamond Experience: A sensorial spa experience providing the perfect synergy between indulgence and effectiveness; ingredients and techniques; nature and science; luxury and excellence. Product used: The Cure Sheer Cream SPF 20
THE CULINARY EXPERIENCE
After a relaxing and rejuvenating time at the spa, indulge your senses even further with every aspect of your treatment mirrored and translated into an innovative gastronomical experience:
Synergy Welcome Drink: Herbal and citrus "Test Tube" made from Meyer Lemon, Lemon Verbena, Sage, Lavendar, Pomegranate and Hibiscus served over aroma infused dry ice.
Refresh & Fizz Salad: A cleansing Rhubarb salad with olive oil powder, and flavored pop rocks that explode in your mouth.
Marine & Mint Inspiration: Scallops over mint jelly finished with eucalyptus & mint infused foam and cocoa nibs. Refreshing menthol infusion towel and gemstone caress.
Minty Cocktail Mist: A fresh mint and vodka-based cocktail mist. Voila! The magic happens on the plate.
Black Magic Croquette: Sepia Ink flavored Risotto Croquette hidden under a "magical" glass cloche.
Chilled Lavender Treat: A honey- lavender sorbet served with a chilled hand-made marble utensil. Aromatic inhale and hand cleansing.
Aroma Surprise: Hay Smoked Squab served in individual Le Creuset pots, with figs and a spiced sauce (cloves, cardamom and long pepper).
Diamond Grand Finale: A shimmering dessert made of exquisite and luxurious textures and ingredients.
Pricing begins at $1,500 per person, inclusive of tax and gratuities, and is available for six-eight people at one time. A parting gift of the Diamond Collection is also included.