Your First Time for Micro-needling – What to Expect
---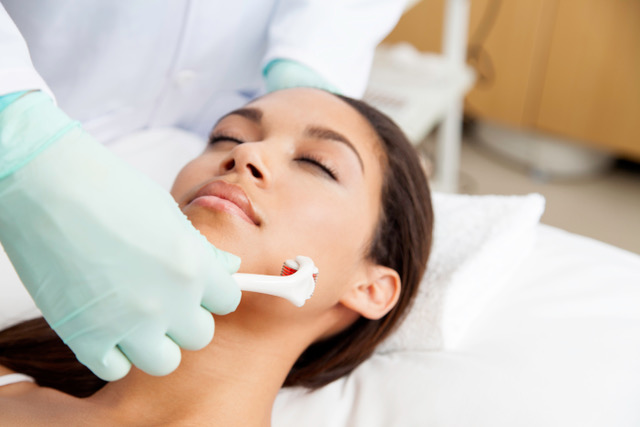 Microneedling. You wouldn't think a beauty treatment that uses tiny needles to prick the skin at surface level is our fave service as of late. (Yes, we're just as shocked as you—we mentioned the needles, right?) But we recently decided to nix our usual peels and HydraFacial and opt for microneedling for a much-needed collagen boost. We've now completed our second microneedling session (more later on why it works best in a series) and we're hooked. Plumper, softer skin with stimulated collagen. Hello, younger-looking me!
The Microneedling Experience
Just as you would with a typical facial treatment, you'll dress in a spa robe and settle back on a treatment bed at your medical spa. Get comfortable as your esthetician cleanses your skin and applies a topical anesthetic. After a bit of waiting time to allow the numbing cream to take full effect, the treatment begins.
Once the numbing cream sets in, the process itself is a quick 15-minute treatment. In my particular experience, the esthetician taps my skin with hyaluronic acid, then sweeps a vibrating, thick, wand-like device evenly across my face—my hairline, forehead, cheeks, chin, above the upper lip and jawline. Tiny needles attached to the wand's head punch my skin's surface, creating tiny "wounds" or openings that allow the acid to deeply absorb.
So does microneedling hurt? It does a bit. It's not horrendous, but it's also uncomfortable. I definitely catch myself flinching a few times and having the sensation of wanting to sneeze (but the results are worth it). A hyaluronic serum and hydrating cream application concludes the service.
Following the Treatment
Post-treatment, my skin feels slightly "raw" and tight, similar to the feel of a light sunburn. I also notice a bit of pinpoint bleeding that I gently dab away with soft gauze (no irritating, abrasive fabric like paper towels!). However, my red face isn't so noticeable that I can't be seen in public. And there is zero pain excluding the tightness.
Over the following few days my face became redder and flakier (day 2 was the worst). Copious amounts of hyaluronic acid and a gentle moisturizer did the trick to soothe—and weeks later, my skin still appears soft and smooth! (And dare I say, porcelain-like and younger?)
Good to Know
Microneedling works best in a series, typically three. Wait a full skin cycle between appointments (about five weeks).
Avoid highly potent topical products like retinol or acids a few days prior to and after your treatment.
Wear sunscreen (always), but especially post-treatment. Also opt for mild, gentle cleansers, cleansers and hyaluronic acid, which the skin drinks up after microneedling.
Wearing a cloth headband to bed the night of your service protects your face pillow from any pinpoint bleeding.